LeBron James will play Wednesday vs. Pacers despite ankle injury
Miami Heat star LeBron James is bothered by an ankle injury right now and may miss Wednesday's game against the Indiana Pacers.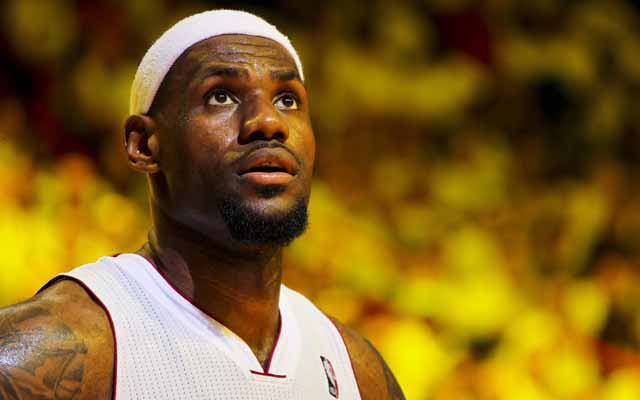 Update: James told reporters before the game Wednesday night he will play, despite being limited by the ankle. 
LeBron: "I'm nowhere near 100 percent. I'm healthy enough to be productive. It'd be hard to miss this one."

— Ethan J. Skolnick (@EthanJSkolnick) December 18, 2013
Miami Heat star LeBron James is having one of the best seasons we've seen in a long time, but right now a stiff, sore ankle could keep him out of a showdown against the Indiana Pacers on Friday. James injured the ankle in the third quarter of Monday's victory over the Utah Jazz, when he turned his ankle during a transition opportunity.
He returned to the game and finished with an impressive line of 30 points (13-of-17 shooting), nine rebounds, and nine assists. However, he didn't practice on Tuesday and says his ankle is "very stiff, very sore." It's questionable whether or not he'll play when the Pacers roll into town for another measuring stick.
RT @WindhorstESPN: LeBron said left ankle "very stiff, very sore" after sprain last night. He's questionable for tomorrow.

— NBA on ESPN (@ESPNNBA) December 17, 2013
It's hard to imagine James sitting this one out if his ankle is good enough to play. The Pacers have been the biggest threat to the Heat over the last two seasons, including playoffs in both years, and Indiana looks the best it's been in over a decade with their current squad. At 20-4, the Pacers have the best record in the East and are two games ahead of the Heat. 
Teammate Chris Bosh isn't buying that James might sit this one out though.
BOSH on LeBron and the ankle: "He's going to play. He's just fooling everybody."

— Joseph Goodman (@JoeGoodmanJr) December 17, 2013
The Pacers and Heat played a week ago with Indiana coming out on top 90-84. 
Warriors' forward doesn't understand the reasoning behind the all-too-common double technical...

Hardaway Jr. gave a 'safe' call like he was an umpire in baseball

Barnes hits the trey with less than a second left to lift Mavericks to dramatic 95-94 vict...
Kevin Durant was once again back in Oklahoma City

Gregg Popovich has never seen an injury lead to the issues that Kawhi Leonard has been fac...

Kobe Bryant, of course, had his 81-point game against Rose and the Raptors back in 2006