LeBron James wishes he was closer with Michael Jordan
Heat legend wishes he had a better relationship with the Greatest of All Time.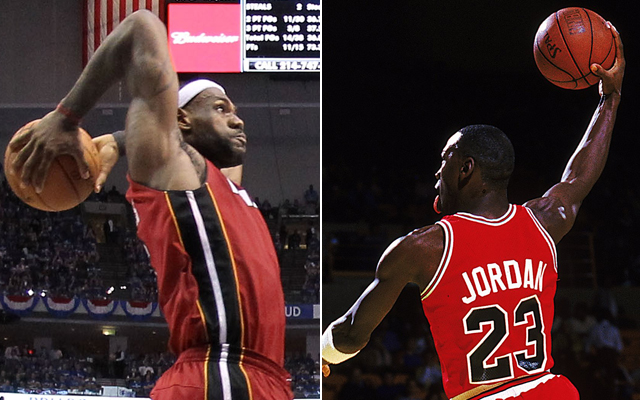 In a wide-ranging interview in which the four-time MVP covers a wide-range of topic in surprisingly revealing detail, Miami Heat star LeBron James discussed his relationship with Hall-of-Famer and arguably the Greatest of All Time Michael Jordan. James expessed regret that he and Jordan have never been close and that he's never had the opportunity to sit down with the legend. 
Do you wish you had more of a relationship with Jordan?

[Leans back pensively and starts smiling, as if he's not sure he should answer the question] Ahhh, I mean, I don't know. That's a trick question. I do. I do at times. You know, he's somebody who I looked up to, and I've never had a conversation with him about the game. I would love to sit down with him and just know exactly what he was going through and know what was his mind frame throughout all his special years. Throughout his pains -- you know, not being able to get past Detroit, then overcoming Detroit. Or asking him, "Why did you retire? What made you come back? What made you come back again?" You know, everything that we all think we know. Just kind of having a sit-down conversation.

[LeBron is seemingly done, winding down his thought. But then he pipes up, realizing there's more he wants to say. He gets louder, more animated.] And then also to hear him talk about me. I would like to know what he thinks about my game and ways I can get better. He probably thinks he can beat me one-on-one right now [laughing]. I know he probably thinks that. I know MJ definitely thinks he can beat me one-on-one right now.

Why do you think you guys haven't developed a relationship?

I think it's just being busy. Obviously, I'm busy. MJ has a lot going on. I don't know the reasons, but it's never been sparked. I've seen him at times. Of course, I've met him a few times. I went to his 50th-birthday party at All-Star weekend. I went to his party to show respect and pay homage to the greatest. I had a conversation with him there. Obviously, there were a lot of people there. But I don't know. I don't know.
via LeBron James on Michael Jordan, fear of failure, 35-point games and more - ESPN The Magazine - ESPN.
Jordan is certain he could have taken James one-on-one in his prime. Now, at ag 50, might be a different story, but I'm betting James is right that if you asked Jordan, the most you'd get is a wry smile. James does a great job here of showing respect for Jordan, and in fact says in the interview that wihout Jordan, there would be no LeBron. He says he patterned a lot of his game off of Jordan, and that Jordan remains the sport's icon. 
As for why the two don't have a relationship? It's an interesting contrast. Let me put it this way. James is a mentor for dozens of young players in the NBA. John Wall, Kyrie Irving, Tristan Thompson, all of them have credited James as having taken an interest in their development. He's reached out to a younger generation to help guide them. That's part of his M.O. 
Jordan on the other hand, is much more like Kobe Bryant. He's always concerned with protecting his position at the top of the food chain. That's part of what has made them so beloved, but it's a radically different approach. Jordan was never taking young players under his wing, instead he belittled and trashed players on his own teams until they proved the were worthy of his support. Even now, Jordan bristles at comparisons or questions about the modern era. He only wants to protect his legacy. 
James represents a threat to that. That's probably why the two are not close. 
Jordan could be more of a father figure to players in this league, he could try and help guide them through difficult times. He could use his wisdom to help others. But that was never the Jordan way. Killing everything that came across his path is. And that's why you shouldn't expect Jordan to reach out and embrace the player who is rapidly approaching the No. 2 spot on the NBA's All-Time list in many people's minds. It's just not how he's programmed. 
Larry Nance Sr. starred for Cleveland from 1988-94

The hotline comes in the wake of the 'Sports Illustrated' investigation into the Dallas Ma...

Giannis, who spent last weekend in L.A. for the All-Star Game, says he loves 'low-key' Mil...
We have all the scores, highlights and news from the first day back from the All-Star brea...

Smart, set to return Friday, said doctors told him he was very lucky that the glass did not...

Word got back to Irving that the team was discussing options, and he didn't like it one bi...