LeBron James: 'You don't have to hate somebody to compete'
The Heat MVP speaks to his approach with mentoring young players and why you don't have to hate everyone you play against to remain competitive.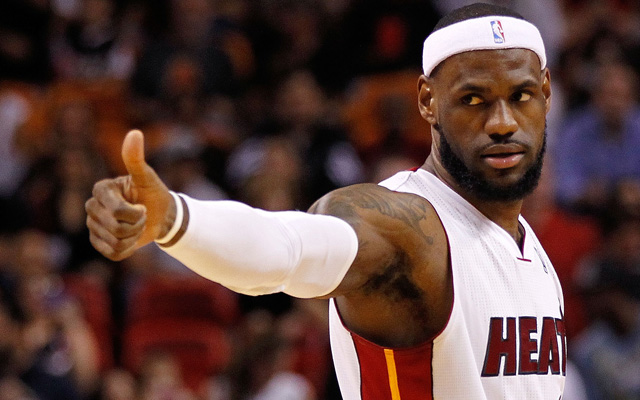 LeBron James has been criticized, perhaps more than any elite player in NBA history, for his attitude. He's not lazy or disrespectful. He stays out of trouble off the court. The Heat star comes across as conceited to many, but then, he's one of the five best professional athletes on the planet and makes tens of millions of dollars each year. Wouldn't you think pretty highly of yourself? 
But more so than that, he's considered to be soft. He doesn't have the killer instinct like Kobe Bryant or Michael Jordan before him to want to destroy everything in front of him. He has always wanted to be close to teammates instead of dismissing and insulting them until they prove themselves to him. His will to win does not extend to wanting to beat everyone in front of him. 
And more than that, he teamed up with two friends to form a superteam in free agency, when the traditional model says you're supposed to only want to compete against them. He doesn't hide from the fact that he's close with younger players and supports them. He's not constantly obssessed with maintaining his alpha dog status. In part, because he's proven he doesn't need to on the floor. 
With two championship rings under his belt, he's got nothing left to justify to anyone. In an interesting interview with Bleacher Report, James talked about what he offers those young players in the way of advice, including some non-NBA players like "Johnny Football," Johnny Manziel: 
"I try to give them advice," James said. "Kevin Durant and Paul George and Eric Bledsoe and Tristan Thompson, so many guys. And not even in my own sport. Braxton Miller is one of those kids. Johnny Manziel, I tried to give some advice to. Just guys who want to be helped.

"I've seen it all. From a business side, from a basketball professional side, I've seen it all. So I just try to help. I'm an outgoing person, and I mean, I don't need to hold onto all of this knowledge. I'm not going to be part of this game forever. Hopefully I can pay it forward where I can give my knowledge to all these great athletes that we have in my sport and other sports, and hopefully they can pass it on to the next generation when other guys come up in the ranks." 

What is he offering? 

"It's a little bit of everything. It's whatever they want, man. And I have enough knowledge to give them whatever insight they want. If it's how to handle the pressure, if it's how to handle the scrutiny, if it's how to maintain focus. And also, some of the things they don't even ask."

He tells them, "The best thing you can do is be a great teammate." 

"Then just let your game do the talking," said the four-time league MVP and two-time Olympic gold medalist. "In our profession, work on your game as much as you can, and with everything that comes off the court, just be blessed and honored with the position you've been given. But just understand that it isn't guaranteed. The fact that if you can understand that and not take it for granted, it opens up so much." 
via LeBron James Discusses His Place in Evolving NBA on Eve of 11th Season | Bleacher Report.
James also took issue with the notion that you can't be friends with players as he is with Chris Paul and Carmelo Anthony while still competing against them. 
"Listen, when this game is over, and we're done and our jerseys are hung up in whatever arena it is, or they place us in the NBA ranks, man, we've still got to live our life. We can't let what people say about us [affect us], man. We still got to live our life. A long life, too. I started this life when I was 18, I'll be done by 40. So I got 50 more years to live, man. So, we all, as a group, can't worry about what people say about us." 

Every year, that "us" expands, as James takes an interest in more young stars, sometimes with ties to his marketing and contract representatives, sometimes not. 

"It's a new era, man," James said. "And there's nothing wrong with that. It doesn't take the competitive spirit out of (anything), man. And I think people need to realize that. You don't have to hate somebody to compete against somebody. At the end of the day, it doesn't matter if my mom is on the floor—I don't want her to win, I don't want her to score. When I step out on that floor, people know. People know that (when) I go out and I play, the minutes I'm out on the floor, if they're not ready, I'm going to dominate them. And even if most of the time when they are ready, I'm still going to dominate them." 
via LeBron James Discusses His Place in Evolving NBA on Eve of 11th Season | Bleacher Report.
And that line, right there, "You don't have to hate somebody to compete against somebody" is what will forever leave him marked by some old school sports philosophists as weak. Because the only way that true greatness has been known since the league's explosion in the 80's is through that prism of hate. Despite Magic and Bird becoming best friends, despite Jordan hanging out with Charles Oakley and Patrick Ewing, despite Kevin Garnett and Kobe Bryant being friends, the idea is that you have to hate everyone who might want to take your throne. 
But that's the thing about being King, I guess. They can't take it so long as you're the one who rules. 
Wade is having a rough start to his first season playing in Cleveland

Greek Freak scores career-high 44 points and reaches scary level to finish the game

It was an ugly finish as the Warriors fell to 1-2 on the season -- both Curry and Kevin Durant...
Mirotic was hospitalized with facial fractures after an altercation with Portis during pra...

Irving had some choice words for a fan who heckled him in Philadelphia

Several teams were reportedly interested in Nelson after he was waived by the Nuggets