LeBron: NBA players don't want any Sterlings to own Clippers
Heat star says players are willing to be patient but want 'what's right.'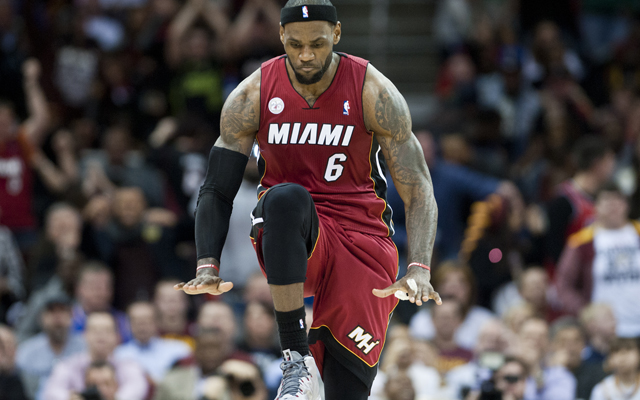 More: Sterling banned for life | Latest updates | NBA news
LeBron James told reporters Sunday at Heat practice that NBA players don't want any member of the Sterling family to retain ownership of the Los Angeles Clippers. 
"As players, we want what's right and we don't feel like no one in his family should be able to own the team," James said after the Miami Heat practiced for Game 4 of the Eastern Conference semifinals against Brooklyn.

"At the end of the day, this is going to be a long litigation when it comes to that," James said. "This guy who's owned the team since the `80s is not going to just give the team up in a day. So we understand it's going to be long, but we want what's right."
via LeBron James says NBA players feel no members of Donald Sterling's family should own Clippers | Fox News.
More LEBRON on STERLING: "A guy who owned the team since the 80s is not going to just give the team up in a day."

— Joseph Goodman (@JoeGoodmanJr) May 11, 2014
James' comments came the same day that Shelly Sterling, wife of banned Clippers owner Donald Sterling, told ABC that she intends to fight any effort by the NBA to force the sale of her portion of the team. The NBA responded with a statement that describes an NBA bylaws clause that allows owners to terminate all minority ownership agreements if they vote to terminate the majority owner's control. 
James was one of the first NBA athletes to speak out when Sterling's comments first came to light two weeks ago before NBA Commissioner Adam Silver issued a lifetime ban on Sterling from all NBA activities. 
It's probably for the best that James says the players understand how long this process could take. Given the litigious nature of both Sterlings, this whole thing could take quite a while to resolve. 
Thomas took to Twitter to let the Celtics know he doesn't want to ruin Pierce's night

The Hall of Famer was a seven-time All-Star with the Celtics, and was MVP of the 1976 Fina...

It's rare to see a legit punch in an NBA fight, but this was definitely one of them
We've got all the scores, highlights and news from an NBA Tuesday

The former Slam Dunk Contest champion will take his talents to Tri-State

Do NBA players have look-a-likes from famous paintings? We found out on the new Arts & Culture...