LeBron says he no longer views Paul Pierce as his individual rival
LeBron James says that he has no individual rival anymore.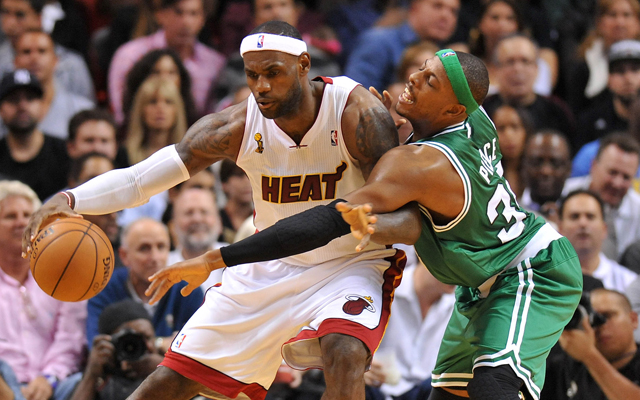 LeBron James has really had no equal for the last five years, but if there was ever one player that often stood in his way, or got under his skin, it was Paul Pierce. 
Between the Celtics and Heat battling constantly for Eastern Conference supremecy to the knockdown, drag-out playoff series, Pierce and LeBron stood toe-to-toe often. 
What it led to was a rivalry within a rivalry, with Pierce kind of becoming LeBron's nemesis. But now, LeBron says he doesn't see it that way, or any other player as an individual rival for that matter. Via the Miami Herald:
"Paul was one of those rival guys, but I've been going against different guys the last few years.

[...]

"It's not just one guy," James said. "I haven't played against one individual for a long period of time — since basically it was me and Paul. Me and Paul, we had so many duels and almost every year we were going against Boston whether I was in Cleveland the last few years or Miami … So, I don't know if there is one particular guy. There are some teams I believe are very competitive in both conferences, but it's not just one guy."
I don't think LeBron is saying that there's no one on his level, that he's unmatched and therefore unworthy of a rival, as much as he's saying that he doesn't view any single player as his nemesis. 
LeBron said over the summer that if he had a rival, it would've been Pierce. 
"I would say that I don't really have an individual rivalry. I think the closest would be Paul Pierce," James said in June. "I would say Boston is a rival of mine because I've met them so many times in the postseason. I've been able to advance against them, they've sent me home fishing a few times. So I would say Boston and Paul Pierce would kind of be that guy, if I had to name just one guy."
But now, with the Celtics now turned into the Nets with Pierce and Kevin Garnett moving to Brooklyn, that animosity seems to have dried up to some degree. 
Kobe Bryant was always seen as the likely rival, but he and LeBron never met in a Finals. Carmelo Anthony could be, but his teams have never been quite good enough. Kevin Durant is as close to an equal as there is to LeBron, but the only time he and LeBron would meet is in the Finals, where they have once. 
But for LeBron, it's just him against the world. Which sounds about right. 
Cavs star chose to be very secretive when talking to Lakers rookie after Thursday's game

New York announced Porzingis would not return shortly after star forward left game

Teletovic missed the final three months of 2014-15 season with Nets recovering from same i...
Keep it right here for all of the news, notes, scores and highlights from around the leagu...

The NBA's City edition Nike jerseys are bold and very different

The Wolves may be smoke and mirrors, but the Pacers have the look of a team that can hang in...