LeBron's motivation and options in Decision 2.0
Stay in Miami? Flee the Big Three? LeBron James' Decision 2.0 has many motivating factors and options -- all with opportunities and consequences.
More Offseason Analysis: Coaching changes, news | Free Agency | Draft
Decisions, decisions. LeBron-a-palooza 2.0 is officially upon us, but I'm here to explain why it isn't quite the same as the first time around.
James informing the Miami Heat that he's exercising the early-termination option in his contract on Tuesday was the second least surprising news of the day -- after the sun informing the Atlantic Coast of the United States of America that it was rising.
When James, Dwyane Wade and Chris Bosh conspired to team up in Miami four years ago, they set it up to be in lock step with an opt-out window after the fourth year of the six-year deals they signed back then. 
The Big Three, as they became known, had been in lock step before. In 2006, when they could've followed Carmelo Anthony's lead and signed five-year, $80 million extensions, James, Wade and Bosh opted for three-year extensions with player options for the fourth season with their respective teams. They wanted to be free agents at the same time so they could explore the possibility of teaming up.
In the parlance of the modern NBA player, it's called having flexibility and options. All three, of course, opted out and became free agents in 2010, and after furious courtships with the Nets, Knicks, Heat, Clippers, Bulls and Cavs, James elected to join Wade and Bosh in Miami.
The hard part done, thanks to the persuasive powers and championship resume of Pat Riley, the Big Three went about tackling an even more difficult task: four straight Finals appearances and two championships. Whatever happens now, the Big Three experiment in Miami should be viewed by history as an unmitigated success.
But James, no doubt, wants (and most would say, needs) more championships to solidify his lofty place among the greatest who have ever played. But the two championships he's won in Miami are one of the key dynamics that differ from his 2010 free-agent excursion: Seeking more championships is different than chasing your first.
Beyond trying to win more titles, what are LeBron's motives? The magic word he used in his season-ending news conference in Miami was "flexibility." Specifically, James said, "Being able to have flexibility is what we would all like."
By "we," did James mean the Heat, the Big Three or James and his "team" of agents, advisors and confidants? I'm going with C, B or some combination of the two -- because James opting out alone won't give Riley enough tools to fortify the roster for another title run.
That's where things get interesting, and somewhat counter-intuitive. The basketball world is melting down with word that James is opting out, but it's actually Bosh and, especially, Wade, who matter more if Riley is going to keep this group together and give them enough to win more championships.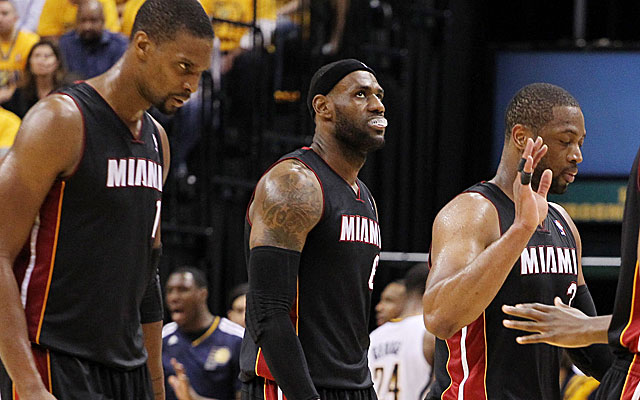 As of Tuesday afternoon, there was still no decision from Wade or Bosh -- both represented by CAA's Henry Thomas -- as to their opt-out plans, a league source said. Each is owed approximately $42 million over the next two seasons (Bosh slightly more).
James sitting down with Wade and Bosh to plot their futures together (or apart) will be the tipping point of this particular Summer of LeBron. And there are a whole new set of variables and questions in stark contrast to the circumstances surrounding the Big Three coming together in the first place:
• Are James, Wade and Bosh still in lock step? In 2010, all three were without question worthy of max deals. Now, Wade is 32 and struggled physically this past season. Bosh's impact on the Finals was minimal, but he's 30 and there are plenty of teams with cap room who'd set the market for him at the max. Given Wade's physical condition, it's hard to imagine a max market for him. Since four years is the most he can get from another team anyway, it makes sense for Wade to opt out and re-sign with Miami for four years (perhaps with a player option after three) so he gets the $42 million owned to him over a more reasonable period. James and Bosh on the books for the starting max of about $22 million each, plus Norris Cole at $2 million and Wade's deal starting at, say, $18 million, would open up the larger non-taxpayer mid-level exception of $5.2 million and make the Heat players in the free-agent market. (The same could be accomplished if all three signed deals starting at about $17 million.) The catch: once the Heat used the exception, they'd be hard-capped at about $81 million ($4 million above the projected tax line). With the Heat facing the repeater tax this coming season, it would accomplish the shared goals of getting the Big Three some more help, limiting the Heat's financial exposure as Wade gets older, and capping Micky Arison's tax bill at $10 million next season under the repeater rates.
• When does James want to be a free agent again? This is a key part of the equation. In the post-lockout environment, free agency is one of the few leverage points that players have left. It's why James signed less than a maximum-length extension in 2006, and why the Big Three built in early-termination options (ETO) and player options into their six-year deals with Miami (both are no longer allowed in the same contract). If James signed a max deal for five years in the $126-$129 million (depending on where it started), he would only be permitted to have an early-termination option after the fourth season (when he will be 33 going on 34). Might James consider dusting off the strategy from 2006 and signing a three-year deal so he could hit the free-agent market again at age 32?
• Could the Big Three stay together and get another superstar to join them? Their buddy, Anthony, is a free agent, too. So, sure, they could make it a Big Four -- if all four of them are willing to sign a deal starting at about $15 million a year. End of discussion on that front, especially if you consider how Anthony behaved the last time all four signed extensions in 2006; Melo went for the five-year, $80 million extension instead of the shorter deal. (And when he forced his way to the Knicks, he did so with the focus on a three-year, $65 million max extension.) Alternatively, James, Wade and Bosh could each sign two-year deals with a player option for the second season. Anthony could get a four-year deal this summer with a player option after the third year, and the Heat could go over the cap to retain the Big Three in 2015. But there is injury risk involved in taking such a short deal, with Wade accepting the biggest risk due to his age and knee issues. Also, again, Anthony would have to accept a starting salary of about $15 million -- not realistic for a 30-year-old free agent who could be signing his last big contract, and not consistent with his past behavior. Beyond that, Arison would be paying the repeater tax as far as the eye could see.
• What are LeBron's other options? Other than the Lakers, the teams with cap room to sign James outright are not in markets that would compel him to leave Miami. Even with the Lakers, would teaming up with 35-year-old Kobe Bryant and 40-year-old Steve Nash be a better situation than staying with the Big Three -- especially when you consider he could get only a four-year, $96 million deal as opposed to the five-year, $129 million deal Miami could offer at the full max? The only way James could get a second max-level star to join him in LA would be if the Lakers waived Nash and stretched his remaining $9.7 million over three years. Even then, it would open up only about $17 million each for James and the other star. The Clippers? In order to be permitted to acquire James in a sign-and-trade, Doc Rivers' team would have to dump at least $15 million in salary before the conversation even began. The Bulls and Rockets are better positioned for a sign-and-trade, whether it's James or Anthony they're chasing. But for an outright signing, Chicago amnestying Carlos Boozer and dumping Taj Gibson would free up only $17 million for a free agent. The Rockets would have to find takers for both Omer Asik and Jeremy Lin, each due $15 million next season. Even that would free up only about $15-$16 million for James or Anthony -- and that doesn't even account for matching the potentially massive offer sheet Chandler Parsons will secure this summer as a restricted free agent.
• What is the Heat's leverage? This depends on what plan James, Wade and Bosh decide to pursue. If they all want to stay and free up some room for Riley to get them a little more help, the negotiation becomes easy. But if James decides the Big Three's run is over and wants to seriously explore leaving, things change. If Chicago and Houston are the only realistic options with a contending team -- at a significant pay cut -- then why would the Heat negotiate against themselves? If James is going to take a pay cut, he might as well do it with the organization he knows and with teammates he's comfortable with -- while wielding some clout as to the talent that will be around him in Riley's retooling plan. Other than that, if James wanted to start over in his 12th season, when he will turn 30, in Cleveland with Kyrie Irving and this year's No. 1 pick or in Philadelphia with this year's third pick and 10th picks (and last year's No. 6, Nerlens Noel), he could realistically get a max deal that way.
It's one of the many aspects of Decision 2.0 that James will have to weigh. He has plenty of options, all of them with opportunities and consequences.
L.A. reached a three-year jersey ad patch deal with Wish, a San Francisco-based e-commerce...

John Paxson doesn't intend to buy Wade out without some sort of compromise from the 3-time...

The new BBB kicks have a sleek, all-black design and will be available in November
Durant recently apologized for tweets criticizing the Thunder and Billy Donovan

Jackson says he has 'no respect' for Durant after KD created fake Twitter pages

James is apparently motivated to help Rose, who signed a one-year deal with the Cavs this...