Life after Deron & Melo: How the Jazz and Nuggets fared
Did the Nuggets and Jazz' unconentional "win now, win later" approach prove to be correct, or should they have started over from the get-go?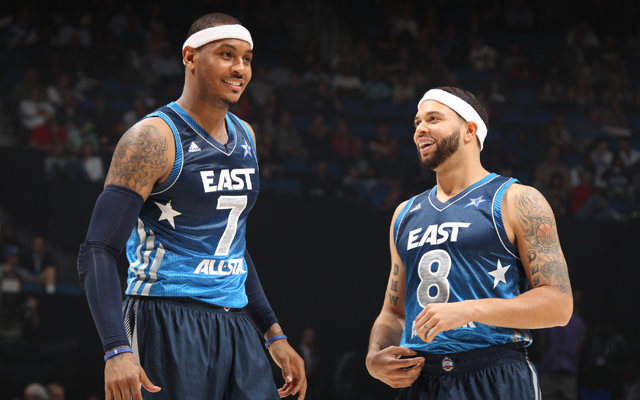 Two years ago, two Northwest Division opponents faced shifting tides. The Denver Nuggets knew their storm was coming. They understood that Carmelo Anthony was on his way out of town, most likely to New York, it was all a matter of what they would get in return. The Utah Jazz, however, had a squall come up and topple the boat. 
Jerry Sloan, Deron Williams, everything clashed and in the end, Jazz management took the quickest route out of the storm. 
Melo and DWill were traded within days of each other. The surprising part really wasn't that they traded their franchise stars. It was that they managed to get such a huge set of assets back. 
The Nuggets got:  Wilson Chandler, Raymond Felton, Danilo Gallinari, Timofey Mozgov, cash, a 2012 2nd round draft pick (Quincy Miller), a 2013 2nd round draft pick (Romero Osby) and a 2014 1st round draft pick. They moved Felton for Andre Miller, and sent the less favorable of their own pick or the Knicks' next year to Orlando for Andre Iguodala in the Dwight Howard trade. So that's a bust, but that's still a hefty set of assets. 
The Jazz got:  Derrick Favors, Devin Harris, cash, a 2011 1st round draft pick (Enes Kanter) and a 2013 1st round draft pick (Gorgui Deng), who they sent to Minnesota along with their own pick for Trey Burke. 
The two teams spent the next two years building on the same philosophy, which I came to call the "win now, win later" model. The idea was that instead of tanking out, a team could continually make the playoffs developing top young talent, while also accumulating assets that could later be used to acquire a star. And for two years, it appeared to be a way around the so-often-brutal tanking philsophy, a way for fans to enjoy watching their team and for teams to make playoff money while not getting trapped in the Atlanta Hawks' concrete-ceiling approach. 
So how did that work out? 
We'll get to that, but first, a word about the question. 
20/20 Blindsight
There is a fundamental mistake in considering some decisions based on the outcome and not on the factors involved at the time. This actually pertains to the draft as well. There's a very popular sentiment that we should not analyze draft picks immediately because we should give them time to be evaluated. But this ignores that there are evidence and factors present at the time of the decision which reveal a certain value to the pick. 
Let's say we could step out of the space-time continuum and evaluate all possible universes. (Just go with me on this.) A prospect can be evaluated as having coniderable concerns and is a poor fit for a team. But the team selects him anyway. And in 99 out of 100 universes, a pick is a bust. But in this timeline, the pick winds up being a superstar. Does that make the decision correct? 
So when we evaluate the Jazz and the Nuggets, it's important not to just take a look at where they are now, but the paradigm to not tank out and collect moveable assets independently. Was that a sustainable approach? Was that a good decision? 
The Nuggets and Jazz were in good positions as any team to acquire superstar had one come available. Houston was in a little bit of a better one. It just worked out that way. They gave their fans fun, talented teams who won a lot of games. They didn't have to deal with the misery of tanking. 
The inevitability of result
But here we are, still. The Nuggets enter the season having given up Arron Afflalo, Al Harrington and that pick for a player who signed with the team that ousted them in a first-round upset. Utah missed the playoffs and watched Al Jefferson and Paul Millsap walk in free agency, and now are fully committed to a rebuilding tank year. 
The Jazz had to eventually move beyond its hopes of perpetual building and go down the dark road of trading for Andris Biedrins and Richard Jefferson. The Nuggets seem to be headed for a disappointing fall back after winning 57 games last season. 
Maybe the entire approach is flawed. Maybe there really only is one way to contention, and that involves te constant slash and burn of build-tank-rebuild-contend-build-repeat. 
You do have to consider that the Nuggets lost Masai Ujiri, who pulled off the Melo trade and subsequent asset accumulation, and that the Jazz had a shorter lifespan given Jefferson and Melo's contracts. GMs often talk about how the idea is not to get a superstar, but to be in a position to get one. That's how the Celtics landed the Big 3 and that's their approach now. The Rockets weren't targeting James Harden (or Dwight Harden), they were targeting the position of being able to get said superstar. 
So the model works, but only for a short time. You have a window after trading your superstar where you can maneuver to recover ground. But if that doesn't work out, eventually you have to pull the cord and float back to the bottom like the rest of the non-contenders. Utah has pulled that cord. Denver is still trying to figure out what to do. They might be able to pull out of the slow decline. 
But overall one thing remains true: building a contender, in any which way, is always extremely difficult. 
Gobert, who missed 11 games earlier this season with a knee injury, will have an MRI

Get all the latest scores, news and highlights from Friday's NBA games

Porzingis is questionable for Carmelo Anthony's return to MSG on Saturday
The Spurs and Rockets will renew their in-state rivalry on Friday night

Anthony will play at Madison Square Garden on Saturday for the first time since being trad...

SportsLine's Mike McClure, a DFS pro with more than $1M in winnings, gives optimal lineup...