Lionel Hollins on KG: 'All reports that I have is that he's coming back'
New Brooklyn Nets coach Lionel Hollins says that everything he's heard from Nets' management is Kevin Garnett will be back next season.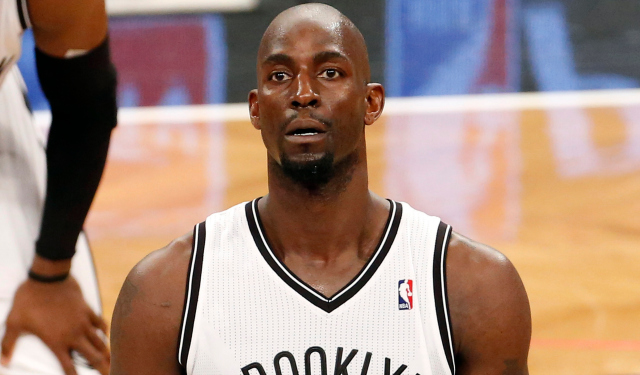 More Offseason Analysis: Coaching changes, news | Free Agency | Draft
It's been 19 seasons since Kevin Garnett was the new spark of high school players foregoing the college experience and jumping straight to the NBA. It wasn't customary for high school kids to make the jump at the time of Garnett's entrance into the NBA, and he opened the flood gates for roughly a decade before the NBA put an age limit on the draft process that makes a player be a year removed from his graduating class in high school.
There hasn't been a firm "yes" or "no" regarding whether Garnett will return for his second season with the Brooklyn Nets and his 20th season in the NBA. However, new Nets coach Lionel Hollins tells Jared Zwerling while he hasn't talked to Garnett about whether he's coming back, everything he's heard from team management is that KG will return in 2014-15. From Bleacher Report:
B/R: Staying in the frontcourt, what's the latest with Kevin Garnett? Has he talked to you yet about returning?


LH: No, I haven't talked about that with him, but all reports that I have [from team management] is that he's coming back. It's his right to make that decision or change his mind if he has decided to come back or not come back. I'm not worried about that. That's out of my control. That's a decision that KG and his family have to make, and I'll leave it with him.
Last season was the worst for Garnett since he started his career in the NBA nearly two decades ago. He shot the lowest field goal percentage (44.1 percent) of his career, averaged the fewest points (6.5), the second fewest rebounds (6.6), the fewest assists (1.5), the fewest steals (0.8), the fewest blocks (0.7) and the fewest minutes (20.5) in his career. He struggled to stay healthy enough to be out there every night, playing in just 54 games.
He's had one of the best all-around careers in NBA history, but it's been unknown if he has the desire and energy to come back for season No. 20. Garnett is in the final year of a three-year deal that will pay him $12 million this season. 
T.J. Warren gets paid big money by the Suns in a four-year deal

Melo didn't hold back on his feelings about President Donald Trump and urges for help in Puerto...

The Wizards star says the NFL won't change until important players like Brady and Rodgers speak...
Popovich spoke at length about sports, race, culture, and politics during Spurs media day on...

Carmelo Anthony finds the idea of coming off the bench very funny

Several teams spoke about Trump's recent comments about protests and the Warriors' White House...