Lionel Hollins on Memphis versus NYC: 'It's like back in the stone age'
Brooklyn Nets head coach Lionel Hollins amusingly compared the atmosphere in his old home to his new one.
• 1 min read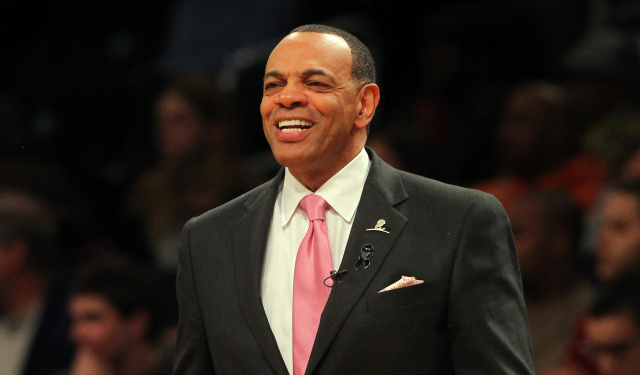 More Offseason Analysis: Coaching changes, news | Free Agency | Draft
Brooklyn Nets head coach Lionel Hollins, in a video interview with the team's official website, said that he's an adaptable person and he expects to have fun in his new home. He also compared it to his old home, Memphis:
I've been to New York many times. Having been in the league as long as I have and even when I lived in Philly and when I lived, now, in Memphis, we would come up and go to a play or go to a musical and then go to dinner and hang out for two or three days. So I'm pretty comfortable with New York, I just never thought I'd be living here. That's the big shocker. It's still surreal to believe that I'm in New York, and especially after being 12 years in Memphis. Memphis is like, compared to New York, it's like back in the stone age when you didn't have electricity and stuff. And that's not a knock on Memphis as much as it's just a contrast in how developed and how, just, unbelievably electric New York is versus Memphis. People are laid back, they move slow, they talk slow and they drag their words out. Here, everybody talks so fast and usually you have to listen real hard and ask 'em to say what they said again. 
The Grizzlies enjoyed their most successful stretch in franchise history with Hollins at the helm, and plenty of the population would have been pleased had Dave Joerger ended up in Minnesota this summer and Hollins made a return. He stayed in the community after the team elected not to bring him back last season, and obviously didn't mean to offend anyone. It'll be interesting to see how that "stone age" comment is received, though.
Kerr knew just what to say after Jones pulled off an upset in Alabama

The future of the league was on display on Tuesday night

Check in throughout the night for the latest news and highlights from NBA games
The Lakers legend details why the NBA popularity will continue to rise

SportsLine's Mike McClure, a DFS pro with more than $1M in winnings, gives optimal lineup...

If the Thunder forward doesn't know the reason, he has a very short memory