Philadelphia 76ers big man and social media guru Joel Embiid may not be cleared for basketball activities yet, but that doesn't mean he's not putting in work.
On Monday night, a Lyft driver captured video of what appears to be Embiid running through the streets of Philadelphia -- after all, it's not hard to notice a 7-foot, 250-pound NBA player bounding through an intersection. He then followed Embiid for a short distance and posted the video for all to see.
If this looks familiar, it should. Embiid isn't the first Philly sports icon to take a run through the city.
Just like Rocky, Embiid even acknowledged praise from fans along the way and threw his hands up in the air. Man, does this guy know how to play a crowd.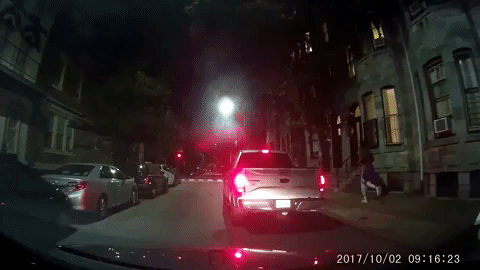 Lest you think this was some kind of gimmick or photo opp, Sixers coach Brett Brown was quick to acknowledge that Embiid has been running the streets even when the cameras aren't rolling.
Brett Brown said video of Joel Embiid running through city was actually 2nd straight night he'd done it. 1st night "no one had video ready"

— John Gonzalez (@_JohnGonz) October 3, 2017
The 23-year-old Embiid is recovering from meniscus surgery in March that limited his rookie season to just 31 games after he sat out the first two years of his NBA career with various injuries. He has yet to participate in full-court five-on-five scrimmages, and will not play in either of the Sixers' first two preseason games this week.
When Embiid is on the court he's one of the most promising young players in the league -- he averaged 20.2 points, 7.8 rebounds and 2.5 blocks in just 25 minutes per game last season -- and he's already beloved in the city of Philadelphia. Videos like this one only add to the legend.