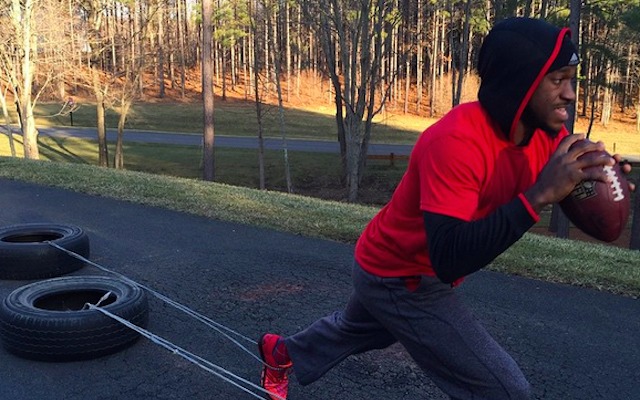 Maybe Magic Johnson's right. Maybe Robert Griffin III should stay off social media.  
In mid-February, Johnson said that RG3 should stop posting pictures and tweeting about his workouts.
"I don't want to see him on social media," Johnson said. "I don't want him to talk about his workouts, lifting weights, because, oh, he's great. What I want him to do is show me that he's working on his technique to be a better football player and a better quarterback."
Not surprisingly, RG3 didn't take Johnson's advice and we know that because a week later, Griffin posted a picture on Instagram of a workout that involved him dragging large tires down the road.
Now, I'm not a doctor or a trainer, so I have no clue if tying rope to your ankles and dragging two large tires down the street is good or bad for you. However, Tim Grover is a trainer and when he saw RG3's picture, he offered some unsolicited advice to the Redskins quarterback.
Grover's advice to RG3? You might want to stop doing what you're doing. 
Grover, who's trained NBA players like Michael Jordan, Kobe Bryant and Dwyane Wade, took to Twitter to express his concerns to RG3. 
.@RGIII Saw this photo, concerned about this exercise in light of your previous injuries. See next tweet. pic.twitter.com/KacGLEWyJO

— Tim S. Grover (@ATTACKATHLETICS) February 16, 2015
.@RGIII This exercise puts excess stress on ankle/knee/hip, forces abs/glutes to fire incorrectly. Weakens the throw pic.twitter.com/ZhX36Y665V

— Tim S. Grover (@ATTACKATHLETICS) February 16, 2015
.@RGIII Hope you don't mind the opinion but I've seen too much go wrong. Work smart, not just hard.

— Tim S. Grover (@ATTACKATHLETICS) February 16, 2015
Grover told the Washington Post that the workout Griffin was doing might be hurting RG3 more than helping him. 
"If this movement is doing what it looks like it's doing, it's putting excessive stress on his ankle, knee and hip," Grover said. "We already know he's had two knee surgeries and a dislocated ankle. If you're trying to work hip flexor, there are much better ways."
Anyway, we're less than two months into the offseason and we've seen Griffin get into a spat with a fan on social media, get scolded by Magic Johnson for his social media habits and get told by a professional trainer that his training is wrong.
I'd say this has been a rough offseason so far, but compared to last offseason, this year has actually been tame for RG3.