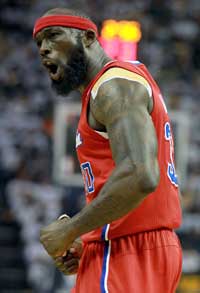 Reggie Evans will be Brooklyn-bound. 
(Getty Images)
One of the NBA's best flopping acts will be changing coasts.
Los Angeles Clippers forward Reggie Evans will be sign-and-traded to the Brooklyn Nets for a future second-round pick, according to Yahoo Sports. SI.com reports that Evans will get a 3-year contract worth $1.6 million per season.
Ken Berger of CBSSports.com has confirmed the trade's terms and notes that Evans will slide into a Brooklyn trade exception. 
Evans, 32, has long been known as a rebounding specialist and enforcer type. In 2011-12, he became better known for his propensity to simulate fouls, including what was arguably the flop of the year against the New Orleans Hornets.
Evans posted averages of 1.9 points and 4.8 rebounds in 13.8 minutes per game off the bench for the Clippers last season.
He will join a Brooklyn team that is stocking up, having agreed to re-sign forward Gerald Wallace for a 4-year, $40 million extension and having agreed to trade for All-Star guard Joe Johnson with the Atlanta Hawks. Brooklyn also agreed to sign Mirza Teletovic on Tuesday.
Brooklyn is still awaiting the free agency decision of All-Star guard Deron Williams, who has narrowed his options down to the Nets or the Dallas Mavericks.