Los Angeles Clippers will not retain Vinny Del Negro as coach
The Clippers have experienced the franchise's most success in the past few years. But that success was not enough for Vinny Del Negro to keep his job.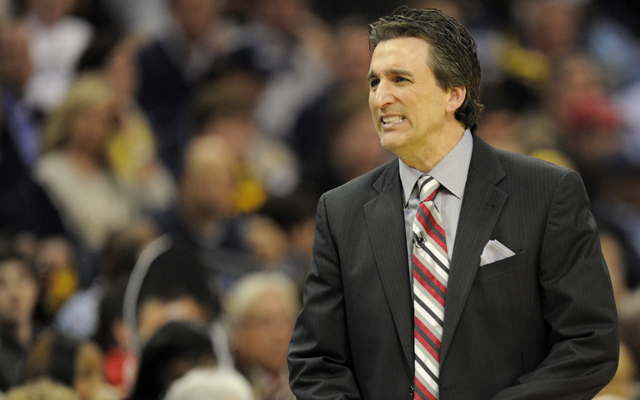 After a disappointing first-round exit, the Clippers have decided not to retain coach Vinny Del Negro, the team announced Tuesday.
"We would like to thank Vinny for everything he did during his three years with the organization," Clippers vice president of basketball operations Gary Sacks said in a statement. "Vinny helped this team win a Pacific Division title and we greatly appreciate all that he and his staff helped us accomplish. This was a difficult decision, but we feel this is the best decision for our franchise moving forward."
Del Negro, hired by the Clippers in 2010 after being fired by the Bulls, has overseen the most successful period in the history of the team, guiding Los Angeles to consecutive postseason appearances and the franchise's first Pacific Division title.
This past season was the best in the organization's history. The Clippers notched a franchise-record 17-game winning streak, including a perfect 16-0 mark in December. They also recorded their first 50-win season along with the division title.
But with expectations rising and the future of Chris Paul in question, the Clippers are looking to change direction. And it'll surely be the most attractive head coaching opening in the league with a young, talented roster mostly already in place. 
According to Ken Berger of CBSSports.com, Paul was "not a fan" of Del Negro.
In three seasons with the Clippers, Del Negro went 128-102. The Clippers made it to the postseason the last two years, exiting in the first round in six games to the Grizzlies this season and in the second round in four to the Spurs last season. 
Del Negro has a career coaching record of 210-184.
We've got you covered for all the scores and highlights from Sunday's NBA games

The Cavs superstar compared Kaepernick to Martin Luther King Jr. and Muhammad Ali

The Warriors coach isn't surprised that the president and LaVar Ball are in a war of words
Kyle Kuzma is tired of how his teammate Lonzo Ball is being treated

The Warriors used a huge third quarter to come back from a 23-point deficit to get the win

Three takeaways from Golden State's 24-point rally past the Sixers