Losing to LeBron shows Melo how far he's fallen with Knicks
When LeBron James formed his super team in Miami, Carmelo Anthony tried to do the same in New York. The two superstars and friends have never been so far apart.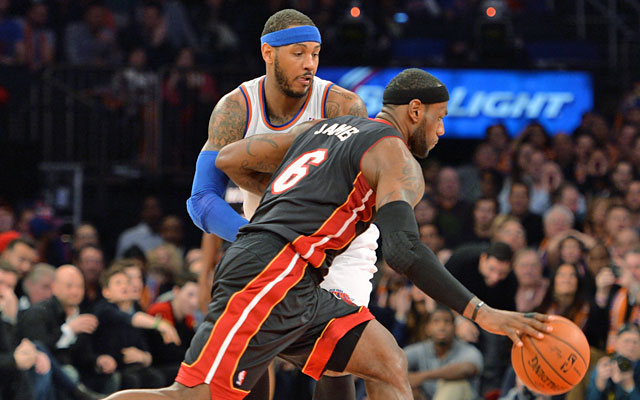 NEW YORK – On the eve of Super Bowl Sunday, Carmelo Anthony delivered a nifty open-field tackle on LeBron James as the Heat star and four-time MVP drove full-throttle to the basket.
In some ways, that moment in the third quarter of the Heat's 106-91 victory over the Knicks on Saturday night was symbolic of their competitive relationship. James is hurtling so fast toward more championships and accolades that all Anthony can do at this point is get in the way.
They've been doing this since Anthony was 16 and James was 15. Somehow, they're in their 11th NBA season. And as both approach a free-agent milestone this summer, the gap has never been wider between James and his back-to-back championships and Anthony with his 19-28 Knicks.
When James orchestrated his exodus from Cleveland and joined Dwyane Wade and Chris Bosh in Miami in 2010, his peers immediately began scheming to form their own super teams. At Anthony's 2010 wedding in New York, Chris Paul famously toasted about forming "our own Big Three."
Anthony did his part, forcing the blockbuster trade that sent him to New York from Denver in February 2011. Then came the lockout, and when it ended, the Knicks added Tyson Chandler to the Anthony-Stoudemire duo to form a different Big Three than Paul had in mind. Paul, of course, wound up getting traded to the Clippers.
James has won two championships in Miami since then. On Saturday night, the Knicks suffered their 28th loss of a lost season, the same number of games they lost all of last season, when they won 54 games and advanced to the Eastern Conference semifinals, where they lost to the Pacers.
Chandler is a shadow of the player who won defensive player of the year honors two seasons ago. On Saturday night, Stoudemire played four minutes. Anthony was left to apply lipstick to this collective pig in his postgame assessment of where the Knicks are and where they're going.
"I like the direction that we're going in right now just as far as our mentality, our focus," he said.
But Anthony's hopes of forming a championship caliber Big Three in New York have gone down the toilet. And while James will have his own free-agent decision to make this summer, Anthony's will carry so much more meaning and weight, given that he is enduring the first losing season of his 11-year career.
"As far as the season goes, I'll deal with it," Anthony said. "It is what it is at this point."
It was Miami's first victory in New York City this season, after losing twice to the Nets in Brooklyn and once to the Knicks. Such statistical anomalies of the NBA schedule didn't do much as a conversation starter for James before the game, nor did an attempt to pick James' brain about what his good friend and longtime foe might be thinking about as he approaches the July 1 termination date of his contract.
"I'm a good friend of his, but I don't know what his mind is saying or what's going through his mind," James said. "He loves to play basketball, and just like the rest of us, he wants to win. That's the No. 1 thing: When you do something for your whole life, you want to win at it and work at it. You don't want it to be easy, but you want an opportunity to win."
In only his third full season as a Knick, Anthony has never been farther away from that opportunity. And it can't help to be reminded of that fact by the friend and competitor against whom he has never been this vulnerable.
"I can't look at the standings," Anthony said. "I know where we're at, but as far as saying we lost 28 games this year and only lost 28 last year, this season and last season is no comparison. It's a different year, different team. As long as we continue to get better, we can make a push for the playoffs."
Yes, the Knicks probably still will make the playoffs in the depressing Eastern Conference. But that won't validate Anthony's failed attempt to replicate LeBron's championship-chasing move to Miami. As is the case when they're on the court and James has a head of steam driving to the basket, all Anthony can do now is hold on and hope for the best.
Jonah Keri talks with NFL and NBA broadcaster Ian Eagle

SportsLine simulated Wednesday's Nuggets-Clippers game 10,000 times

Galin Dragiev has his finger on the pulse of the Lakers and just locked in a play for Wedn...
No more McNuggets allowed in the Barnes household

Leonard has played in only nine games this season for San Antonio

Pierce is set to have his jersey retired on Feb. 11, but there's been a lot of controversy...