Lou Williams will join weak free agency class, AKA payday for volume shooters
Lou Williams will opt out and become an unrestricted free agent this summer. What will he get on the market?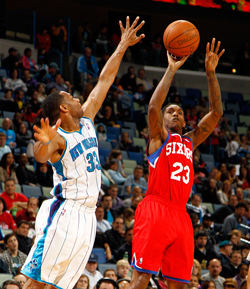 Lou Williams is reportedly set to opt-out.
(Getty Images)
So the trick in these kind of posts is to convey to you what the development, in this case, Lou Williams opting out of the final year of his contract and becoming an unrestricted free agent via the Philadelphia Inquirer, means, without making it seem like Williams is terrible at his job. In reality, Williams was very good at his job. He won a lot of games for the Sixers. He hit a lot of shots. He's a willing and decent defender when not tasked with elite containment.
He deserves a decent new contract. 
But in this environment? He's going to get all of the money. Every money everywhere. He won't get anything insane, but he's likely to get something pretty high for his relative value. As the Inquirer notes: 
A league source said that the interest in Williams throughout the league is "significant" and that a contract to land him could be "in the Thaddeus Young range." Before this past season Young signed a 5-year deal worth close to $43 million.  
via As Lou Williams opts out, what will Sixers do?.
That's not excessively above his ceiling. But if a team that's cleared cap space gets desperate for a shooter, or if Philadelphia panics about its shot production, he could wind up scraping the ceiling of eight figures in the final years of his deal. That's terrifying. 
This is for a shooter who shot 40-36-80 last season. That's for a volume scorer. So he's a guy whose job it is to create offense, except he doesn't really create it efficiently. Now, there's value in that. Someone has to take tough shots, especially in an offense like Philadelphia's. It's just that we've seen too often GM's get too excited or desperate and throw out a huge offer for guys of his mold. 
We saw some level of restraint in the truncated free agency this year. Will we see the same this year under the new CBA? Williams may provide a good barometer on that. 
A dive into the NBA history books for every result from every NBA All-Star Game

The 76ers guard is in hot water after a controversial video surfaced showing him using a racial...

LeBron James earned his third career All-Star Game MVP award
With LeBron James and Stephen Curry as team captains, this was actually an entertaining basketball...

The old teammates worked their magic one more time

Here's how to watch Team Stephen vs. Team LeBron in the 2018 NBA All-Star Game