Love to the Cavs? LeBron James usually gets what he wants
Whether trading Andrew Wiggins for Kevin Love is a good idea isn't really for me or the Cavs to decide. The real question is, what does LeBron James want?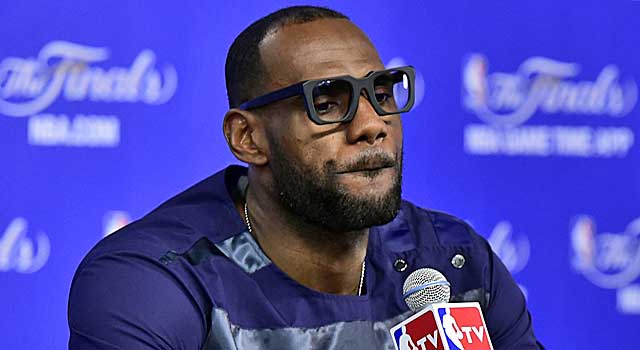 More NBA offseason: Free Agent Tracker | Latest league news & notes
The Minnesota Timberwolves want Andrew Wiggins. Kevin Love wants to go to Cleveland to play with LeBron James. 
If the Cavs want Kevin Love in Cleveland playing with LeBron James, they'll have to trade Andrew Wiggins.
This is where we are.
While three people involved in the trade discussions between the teams offered little certainty Thursday on the subject of the Cavs' willingness to part with the No. 1 overall pick in a deal for Love, one aspect of this ongoing saga is clear: James has the leverage and has demonstrated he is unafraid to use it.
LeBron usually gets what LeBron wants.
This was true during his first tour with the Cavs, when his close friends and associates were given enormous latitude and influence within the organization. It was evident in the team's personnel moves, with former GM Danny Ferry doing everything in his power to keep James from leaving in 2010 -- from Shaquille O'Neal to Antawn Jamison to a failed bid to acquire Amar'e Stoudemire.
James' influence has never been more tangible than it is now, with the four-time MVP agreeing to a two-year, $42 million deal to return to Cleveland -- a contract that includes a player option after next season. On one hand, James' intentions were clear: He's anticipating a sizable jump in league-wide revenues as the NBA approaches a lucrative renewal of its broadcast and digital rights agreements in 2016. By not locking into a long-term deal, James will be in a position to reap his well-deserved share of those riches -- while locking in before the next potential work stoppage in 2017.
But the Love saga also illustrates another aspect of James' leverage: With the perpetual threat of free agency on the horizon, he'll have enormous influence on the roster that is assembled around him -- from season to season, and even within those seasons.
It starts now with this franchise-shaping decision of whether to trade the No. 1 overall pick for Love.
Gregg Doyel thinks this is a great idea -- a no-brainer, essentially. I'm not sure it's that simple. Love has been statistically great in his six NBA seasons, but how great could he be if he's never been to the playoffs or won even half his games?
The dysfunction in Minnesota under former GM David Kahn shouldn't be held against him, and neither should the things that Love can't do -- such as defend the rim or score in the paint. Love, who is 6-feet-10, had the fifth-worst field-goal percentage at the rim last season for players logging at least 30 minutes a game, according to the league's statistical trove at NBA.com/stats. The Wolves' defensive rating was a wash last season with Love on the court vs. off, as was their opponents' total rebounding percentage.
But for a guy who averaged 26.1 points, 12.5 rebounds, 4.4 assists and hit 190 3-pointers last season -- numbers that, as Doyel pointed out, nobody in NBA history had ever amassed before -- I'm nitpicking. In 11 seasons, do you know how many double-figure points-and-rebounds teammates James has had? One: Carlos Boozer, in James' rookie season of 2003-04, when Boozer averaged 15.5 points and 11.4 rebounds. During his four seasons in Miami, James led the Heat or tied for the team lead in rebounding three times.
So while Love has his flaws, he's perfect for LeBron -- the glasswork, the exquisite outlet passing, the floor-spacing 3-point shooting. Simply put, Love does something that is exceedingly difficult to do: When he walks onto the floor with LeBron, he makes LeBron better.
Whether that instant gratification (and the championship potential that could come with it) is worth trading Wiggins, a future star who is not ready yet, really isn't for me to decide. In truth, it's not really for the Cleveland Cavaliers to decide, either.
The missing piece of the puzzle is, what does LeBron want? Because he usually gets it -- especially now.
Kevin Garnett has no interest in working with Glen Taylor, but he'd gladly buy the Timberwolves...

LaVar Ball formed a pop up shop in New York to sell Big Baller Brand merchandise. The results...

The Cavaliers players took a stand against bullying on social media
The Rockets are gunning for their 10th consecutive win

Victor Oladipo just wants to live his life and enjoy his breakout season with his new team

Keep it right here for all of the news, notes, scores, and highlights from around the Asso...