Luol Deng says he's open to talking extension with Cleveland
Cavaliers forward not in a hurry to sign a deal and CBA restrictions leave a deal unlikely.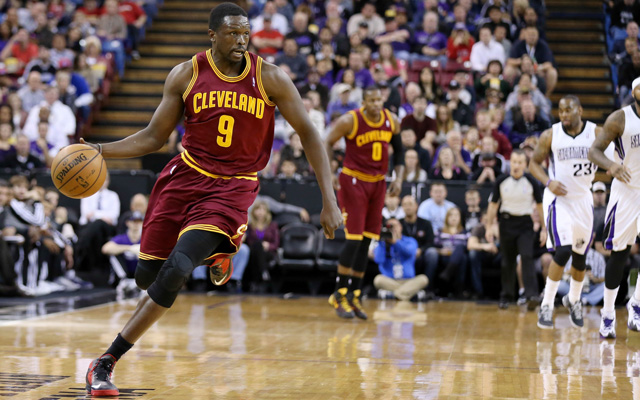 Cleveland Cavaliers forward Luol Deng told Yahoo Sports Sunday that he's open to signing an extension with the Cavs. 
The Cavaliers are interested in keeping Deng long-term, but also know there is plenty of time to evaluate him and begin extension talks, a league source said.

"I'm very open to sit down to talk," Deng said. "At the same time, I'm OK with waiting until the summer."
via Will the Cavaliers put off contract talks with Luol Deng so they can try to sign LeBron James? - Yahoo Sports.
Deng also said that he understands if the Cavs elect to wait and pursue Miami Heat forward (and former Cav) LeBron James with the cap space they'll have with his $14.3 million contract coming off the books. While that scenario is unlikely, this is the Cavs we're talking about, so let's not rule anything out. 
Meanwhile, it's nice of Deng to be polite and remain open to extension talks, but there's almost no incentive for Deng to sign one. The CBA states that players can only sign a three-year extension with a limited raise structure after being traded. Even if Deng doesn't secure a four-year deal in free agency or re-sign with the Cavaliers to a five-year deal, it doesn't make sense to close that door before you see what's out there. 
One NBA executive recently told me he expects Deng to garner an offer somewhere near a four-year deal at around $13 million-per-year. So there's not a lot of reason to pursue an extension. Combine that with the Cavaliers being in better position if they wait and see how this season turns out, and odds are that both sides will take their chances with Deng in free agency.
Jonah Keri talks with NFL and NBA broadcaster Ian Eagle

SportsLine simulated Wednesday's Nuggets-Clippers game 10,000 times

Galin Dragiev has his finger on the pulse of the Lakers and just locked in a play for Wedn...
No more McNuggets allowed in the Barnes household

Leonard has played in only nine games this season for San Antonio

Pierce is set to have his jersey retired on Feb. 11, but there's been a lot of controversy...