Magic: Clippers aren't going to play for anybody named Sterling
NBA Hall of Famer says players cannot and will not separate wife of Donald Sterling from her husband as NBA pursues termination of ownership.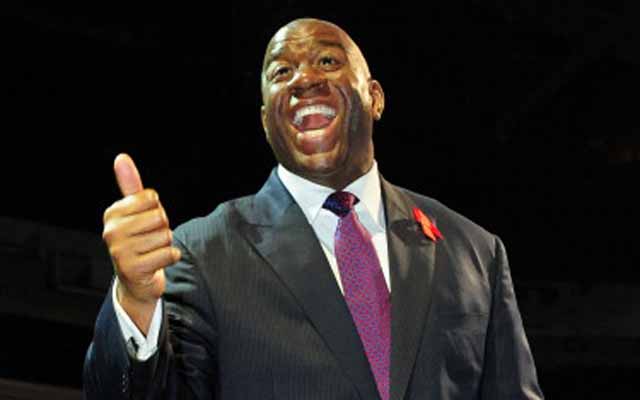 More: Sterling banned for life | Latest updates | NBA news
Magic Johnson told reporters Friday that if the wife of Donald Sterling, Shelly Sterling, retains ownership with the club, no Clipper players would play for the team. 
Magic Johnson said Friday that none of the current Los Angeles Clippers players would play for the team if Shelly Sterling, the estranged wife of team owner Donald Sterling, retains her 50% ownership stake in the team.

"Those guys are not going to play for anybody (named) Sterling," Johnson told USA TODAY Sports and two other reporters at the Omni Dallas Hotel. "It's just how it is. It's hard to separate the two. ... It's going to be hard for them to sell that to the fans and definitely to the players."

...

But Johnson said it is impossible to separate Shelly Sterling from her husband, even though her voice was absent from the audio recording. He noted past allegations about deplorable living conditions by tenants who lived in properties owned by the Sterlings.

"When they accused them of (being) slumlords, that was both, it wasn't one person," Johnson said. "It was both of them. ... They will never recover from this. All the sponsors pulling out, they will pull out for good if she is owning it. It's not going to be the same."
via Magic Johnson: Clippers can't accept Shelly Sterling.
There have been conflicting reports in the past 72 hours about Mrs. Sterling's intentions with the team. Some have indicated that she intends to maintain her ownership of the club and to fight the NBA on any attempt to remove her, others that she plans to cooperate with the NBA's efforts to sell the team.
The NBA's Advisory Committee isn't anywhere close to bringing up a termination of her husband's ownership to a vote. Sterling was banned for life two weeks ago by Commissioner Adam Silver. The Advisory Committee recently removed Andy Roeser, a longtime Sterling confidante, from control of the team and installed Dick Parsons as CEO, while moving Doc Rivers into head of all basketball operations. Rivers has reportedly been de facto handling the team's day-to-day operations since the scandal broke. 
Meanwhile, ESPN reported Friday the NBA believes that it has grounds to remove Shelly Sterling from ownership. Magic has been linked to interest in buying the team despite public denials since Sterling was removed. 
Our advanced computer model simulated Saturday's Thunder-Cavs game 10,000 times

The Jazz are reportedly looking into trading Rodney Hood before the Feb. 8 NBA Trade Deadl...

The Cavaliers are ready to reset everything if they have to. Their interest in Lou Williams...
It sounds like the Cavaliers are going to be active before the NBA trade deadline on Feb....

We've got all the scores, highlights and news for Friday night

George Hill, who is unhappy in Sacramento, could be a solution to Cleveland's backcourt si...