Magic Johnson says Lakers fans are 'spoiled,' 'tough season' ahead
Former Laker great Magic Johnson says the Lakers fans are spoiled because of the franchise's success and they should prepare for a tough season.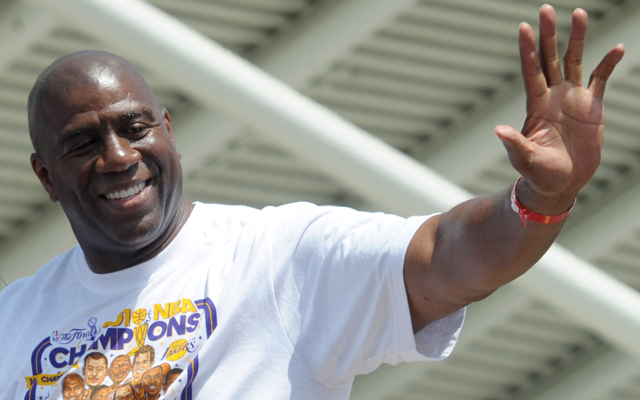 Los Angeles Lakers fans are spoiled. Even the greatest Laker ever Magic Johnson believes this to be true. But that's not a pejorative way of classifying Lakers fans by any means. They've rooted for a team that has experienced nearly unparalleled success over their time in Los Angeles since coming over from Minneapolis in 1960. They've won 11 championships since moving to LA and have rarely had rosters that didn't include some of the best and most exciting players in the NBA. Because of this consistency of talent, competitiveness, and excitement, it's easy to say Lakers fans may have a spoiled basketball experience than a lot of other fan bases.
Magic Johnson stated this during a radio interview on Tuesday before the Lakers opening night victory, saying the fans were in for a tough season ahead of them. With Kobe Bryant still waiting to come back from his Achilles' injury and an older veteran core that's supposed to drive the team to success, it makes sense that Lakers fans should probably brace for the worst. From ESPN Los Angeles:
Magic Johnson is bracing himself for a rough season. He might be part owner of the Los Angeles Dodgers, who just went to the National League Championship Series, but he'll always be a Lakers fan, and their prospects don't look as rosy.

"Laker fans are spoiled. I don't know how they're going to react now, because this is going to be a tough season," Johnson said Tuesday afternoon during an hourlong interview on the "Max and Marcellus Show" on ESPNLA 710 radio. "This is going to be one of the roughest seasons that the Lakers have ever faced. You're waiting on Kobe [Bryant] to see if he can get healthy. Nobody knows if he can be what he was. Then you've got [Pau] Gasol -- who I think is a premier big man -- but he plays better when he has talent around him.

"You've got guys who are all on one-year contracts, and all were journeymen on other teams. Laker fans are not used to that. I don't know if they're going to buy into that. We're going to see. If you want the Laker fans to really buy in and be involved, you're going to have to win right away. I don't see that happening. The West is tough this year."

"I'm hoping that they at least make the playoffs," Johnson said. "But that's going to be tough, especially without Kobe. We have to see what Kobe we're going to get. Is he going to be that same Kobe or is he going to be hurt a little bit?"
While the victory over the Clippers was fun Tuesday night, I doubt it would change much of Magic's view on the upcoming Lakers season. The longer Kobe is out; the longer the Lakers will be at a talent disadvantage. You can catch a couple of teams on random nights but at a certain point, the opponents will be expecting the type of effort we saw in the opener. And from then on, you'll be dealing with a talent discrepancy and better prepared teams.
On the bright side, the current Lakers know they don't really have expectations to weigh them down and that they can play loose in the current system. They don't have to worry about playing poorly in the sense that it will aggravate the fans or the organization because they're beginning a transition period for this franchise. It could still be a rough season but Lakers fans will likely take the effort we saw Tuesday, whether it comes with wins or losses.
James' support continues his trend of social activism on social media

The newly-acquired All-Star thinks the addition of Anthony boosts the Thunder in the NBA's...

The Knicks were asking for the house in discussions for Carmelo Anthony
Steve Kerr has given his response to Donald Trump in writing

Trump rescinded Curry's invitation to the White House after Curry said he wasn't interested...

Silver said he was hoping Warriors would get chance to share their views directly with the...