Magic reach agreement to re-sign free agent Jameer Nelson
Magic reportedly reach agreement with Jameer Nelson.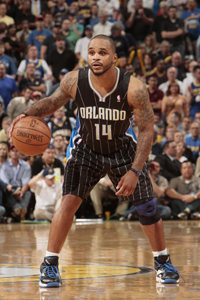 Jameer Nelson will return to the Magic.
(Getty Images)
Jameer Nelson suffered the slings and arrows of the Dwightmare last summer, and entered unrestricted free agency. Howard continously talked about wanting to play with other point guards, despite Nelson having been his sidekick for Orlando's run to the Finals and all the success they had together. You would have thought he'd want a change of scenery, to start fresh, and that the team would want to head in a different direction as well. 
Yeah, not so much. 
The Orlando Sentinel reports that the Magic have agreed to terms with Nelson to bring the point guard back on a three-year deal. Nelson himself confirmed the deal soon after on Twitter. 
This could be interpreted as a sign new GM Rob Hennigan is making a statement that this is not Dwight Howard's team, but Howard likely wouldn't object to Nelson returning. He may not have the best relationship with Nelson after the last year, and may want an upgrade to play with, but he's not going to outright revolt at Nelson being around, the two are friends.
For the Magic, it's yet another curious decision. Why re-sign a player in need of a change of scenery for multiple years at likely a mid-range price when you could be facing a rebuild? Why stick with the same model that's been suffering the past few years? Why commit money long-term without knowing what your priorities will be or what your roster will look like in six months?
But Nelson is a quality starting point guard, and will keep the ship stable. If Howard is traded, the Magic won't be completely terrible. Which is the point, and also, maybe, the trouble. 
Ball and Simmons are having very different rookie seasons, but they could lead to the same...

Keep it right here for all you news, notes, scores, and highlights across the Association

Warriors' forward doesn't understand the reasoning behind the all-too-common double technical...
Hardaway Jr. gave a 'safe' call like he was an umpire in baseball

Barnes hits the trey with less than a second left to lift Mavericks to dramatic 95-94 vict...

Kevin Durant was once again back in Oklahoma City