Magic refute report that Dwight Howard has ownership power
The Orlando Magic have refuted a report indicating that All-Star center Dwight Howard would be granted ownership privileges if he re-signs.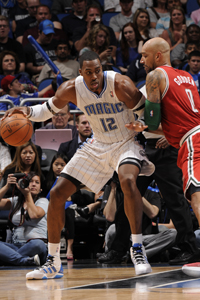 Dwight Howard is not the owner of the Magic, according to the Magic.
(Getty Images)
Who's the boss when it comes to the future of the Orlando Magic?
The Magic insisted on Tuesday that it isn't All-Star center Dwight Howard, as one recent report indicated.
The Orlando Sentinel reported that
_the Magic issued a terse statement in response to a recent report that indicated that Howard, who is set to be a free agent this summer and requested a trade earlier this season, would be granted the right to fire coach Stan Van Gundy and GM Otis Smith if he decided to re-sign with the Magic.
Magic officials released a statement from Chief Executive Officer Alex Martins that read: "The only person(s) who have the final say on coaches and management is the Orlando Magic ownership."

Beyond that, Martins would not comment. As he has before, Martins cited an agreement that he has made with Howard in which both parties pledged that they would not divulge the details of their conversations.


Howard would not speak with reporters after the Magic completed their shootaround today to prepare for tonight's game against the Miami Heat.
The Magic handled this situation properly. There's a fine line here: restoring order without cowtowing to every twist and turn of the rumor mill. Here, given the implication of dysfunction and misaligned priorities that goes with the idea that a player might be running an NBA team's whole show, something needed to be said. But not too much.

Orlando wants Howard to re-sign. They need Howard to re-sign, at least for their short-term playoff hopes. But no functional organization, as the Magic have been for decades now, would leverage itself in such a way. Making such promises to Howard would make life impossible for the coaching and management staffs, and doing so would come without any guarantee that he necessarily would be convinced to stick around. At that point, the franchise becomes one big puppet show.

Any business with sound principles would recoil at the implications of the idea that one employee was more influential than an established chain of command. Martins not only owed it to Van Gundy and Smith to offer a response, he owed it to himself, to his owner and to his fanbase.

The Howard trade saga has hijacked the NBA's trade deadline headlines and reportedly led to some tense feelings in Orlando's locker room. The concept of the franchise needs to stay above that fray, and that's what Martins attempted to do here.
Trail Blazers guards Damian Lillard and C.J. McCollum have been pushing for Anthony to join...

Anthony reportedly gave the Knicks an expanded list of teams he'd waive his no-trade clause...

The Suns will also receive a second-round pick in the deal
Kerr noted Warriors are deeper than the NBA championship team of last season

The Dubs will make a decision as a team on visiting the White House, but Steph would vote...

Wolves are an up-and-coming NBA squad, but this region knows heartache too well