Magic's Jacque Vaughn is moving away from morning shootarounds
Orlando Magic coach Jacque Vaughn is moving away from the tradition of morning shootarounds in order to be more efficient.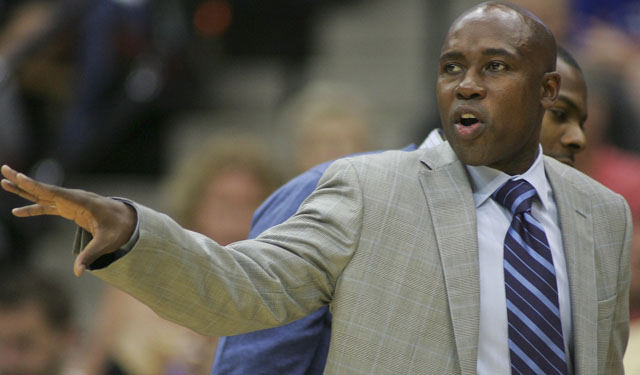 NBA coaches are constantly trying to figure out how to relay game plans to their players in a way that makes the most sense. Considering the players are the ones that have to recognize the adjustments and schemes on the fly, figuring out a way for them to retain game plan after game plan during the chaotic flow of the regular season can be tough. A lot of this communication happens during morning shootarounds the day of the game.
In an effort to help his players have the updated schemes and plans a lot clearer in their minds, Orlando Magic coach Jacque Vaughn is looking to deliver that information a lot closer to game time. Vaughn is moving away from the traditional morning shootarounds and getting his players ready with an afternoon shootaround to help better prepare them for what they have to do later that day. From Josh Robbins at The Orlando Sentinel: 
This preseason the Magic have done away with morning shootarounds, choosing instead to hold afternoon shootarounds on their Amway Center practice court before home exhibitions and afternoon walkthroughs in hotel ballrooms when they've been on the road.

It appears that coach Jacque Vaughn made the switch to improve players' retention of specific gameplans and to keep his players fresh.

"Have I made a conscious effort to not have some shootarounds? Yes," Vaughn said. "And will that continue throughout the course of the year? Probably yes. I took a scope of all the things that we did last year — what I liked, what I didn't like, what I thought was efficient. And that's what I'm about. I'm about being efficient.

"I don't have to stroke my own ego and check boxes off [a practice plan]. I just don't. I don't have to do what other coaches do. I'm fine with doing what I think is best for my team."
One of the common misconceptions about NBA teams is about how much they practice during the regular season. While teams do try to find times to practice during their down days of the regular season, it's more often the case that travel, injuries, and fatigue end up being factors that keep teams from putting in the necessary practice time to keep working on these game plans. Teams often have to adjust more on the fly, making the gameday shootarounds a lot more important. 
If waiting until closer to game time makes it easier for the Magic players to digest the information, this is a fantastic strategy. The one concern is that athletes (moreso than most people) are creatures of habit and a lot of those players have a set routine for very important napping in the afternoon to make sure their body is well-rested for the game. Perhaps an adjustment of sleeping more in the morning could be the additional rest they require, but it will take some getting used to.
Not many games, but still plenty of action and intrigue Sunday in the Association

Kobe Bryant had a solid piece of advice for back in 2016 when he left OKC for Golden State

An old rivalry is reignited between LeBron James and the Cavaliers and John Wall and the W...
SportsLine's Mike McClure, a DFS pro with more than $1M in winnings, gives optimal lineup...

LeBron had 29 points, 11 rebounds, and 10 assists in the Cavs' 109-100 win over the Jazz

The montage showed Carmelo's best Knicks moments before playing the Thunder game