Magic's Jameer Nelson seeing doctor for various injuries, may not play Tuesday
The Orlando Magic's Jameer Nelson is seeing a doctor Monday for injuries and may not play Tuesday.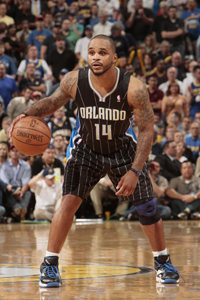 Jameer Nelson is seeing a doctor. (Getty Images)
The Magic's season has been off to a stellar start. Blow out the Nuggets at home, topple the Suns. It's began about as well as could be expected. After all the hard times, looks like it's all looking up for ... oh, damn it. 
The Orlando Sentinel reports that Jameer Nelson was headed to a doctor Monday, and there's a question mark as to his status for Tuesday's game in Chicago. 
Nelson has been a huge part of that early success for the Magic, playing aggressively and smartly while shooting exceptionally well. The Magic re-signed Nelson on a three-year deal even in the midst of the turmoil over the Dwight Howard trade and facing an uncertain future. 
Nelson's veteran leadership is something the Magic are trying to lean on in their inexplicable win-now attitude. Hopefully he's just a little banged up and will be fine. 
We've got all the scores, highlights and news for Thursday night

The Sixers big man got his first All-Star selection -- and maybe some revenge -- on Thursd...

It appears some players are not entirely taking the All-Star voting process seriously
There were some weird discrepancies between the fan, media and player votes

LeBron and Steph will be the captains for the 2018 NBA All-Star Game

Arron Afflalo was involved in an altercation with Timberwolves big man Nemanja Bjelica on...