Mahmoud Abdul-Rauf to Fox Talk: Journey down the rabbit hole
How do you go from 1990's scorer Mahmoud Abdul-Rauf to trying to figure out what a fox says? Journey down the NBA rabbit hole with me.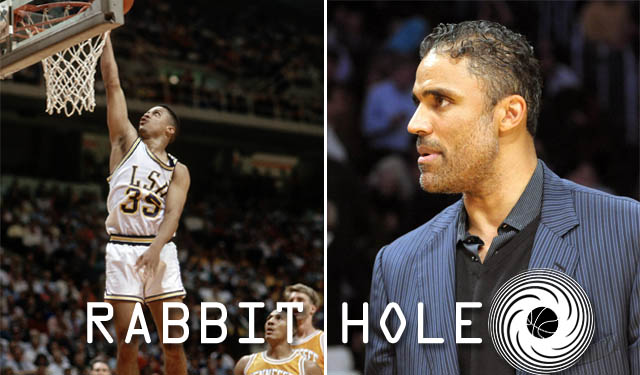 The NFL season is upon us. Peyton Manning got historic with seven touchdown passes in the opening game of the NFL season and fantasy owners are checking over their final roster decisions for the rest of the action this weekend. We've also got the final month of the baseball season winding down before Wild Card games and playoffs begin and we're one month away from training camps in the NBA getting everybody ready for the first preseason game on October 5.
Let's kill some time waiting for the weekend's action to reconvene by going down the NBA rabbit hole today.
First Stop: Mahmoud Abdul-Rauf and his fall from promise
A post on DenverStiffs.com recently caught my eye. Jeffrey Morton wrote a glowing tribute to Mahmoud Abdul-Rauf, praising him for his ability to overcome Tourette syndrome and his lightning quick release on a pretty accurate jump shot. Now while I wouldn't go so far as to favorably compare Abdul-Rauf to present day Stephen Curry like Morton does, it's easy to see why the combo guard was such a fan favorite for Nuggets' fans for years. He was a little guy (in relative NBA terms) that overcame a ton of adversity in order to become a big part of that team's attack and help lead the Nuggets.
He certainly left a big impression on Morton and other Nuggets fans:
When we talk about all-time great Nuggets we tend to leave off Abdul-Rauf. It's a shame, really. His end in Denver obscured four consecutive years of sweet shooting. It's hard to adequately relate to someone in the here and now just how good Rauf's shooting stroke was. While we focus on the controversy that essentially ended his career (he played two insignificant years with the Kings, played overseas in Turkey, then retired, and then came back to the NBA and played an incomplete year with the then Vancouver Grizzlies in 2000-01) we forget about how difficult playing basketball is for someone with Tourette syndrome. My oldest brother has it (along with fairly severe asthma) and it almost cripples him, at times. The immense amount of concentration it takes to perform every day tasks is unbelievable. The reason Rauf was so good at free throws - a career 90.5-percent foul shooter - was he had to concentrate harder than everyone else.

Rauf was a truly remarkable player that was playing in an old school offense (as Nate Timmons would say). Imagine Rauf and that quick release on any number of shooter friendly NBA teams of today? In the grand scheme of things, while the general unfairness of his departure from Denver obscures his basketball accomplishments, I will forever know him as the guy who gave us this from McNichols Arena:

"Rauf! There it is! Rauf! There it is!".
I don't think Rauf was an all-timer when it came to shooting. He had career percentages of 44.2 percent from the field, 35.4 percent from 3-point range, and 90.5 percent from the free throw line. His best year shooting the ball from the field was actually his last season when he made 48.8 percent of his shots.
He had three really good years from 3-point range from 1994-1997, making 38.6 percent, 39.2 percent, and 38.2 percent of his threes, respectively. But he also played in an era that was just getting used to 3-point shooting as a real weapon, so perhaps he truly did play in an era that didn't quite show off his stroke like it should have been used. But I don't know if it was enough to make him an all-time guy.
However, his free throw shooting is arguably the best all time. Steve Nash is the all-time leader in free throw percentage with 90.42 percent on his freebies.
Wait; didn't I just list Rauf as a 90.5 percent shooter from the line? The requirements for qualifying for career free throw percentage are set at 1,200 attempts. Mahmoud Abdul-Rauf shot just 1,161 in his career, falling 39 attempts shy of potentially being the all-time leading accuracy mark from the charity stripe.
Some great highlights of Jackson/Abdul-Rauf's struggles when he entered the league as the third pick in the 1990 draft to figuring out how to overcome Tourette syndrome and poor play come from this classic video called "Below the Rim," which highlights a lot of the guards of the 1990s.
While a lot of people remember him from a protest against the National Anthem in which he refused to stand or even leave the locker room at times, his incredible play on the court and being a part of the 1994 Nuggets team that shocked the basketball world are what stick with me.
The Nuggets shock the world against the Sonics
The 1994 Denver Nuggets team was incredibly fun to watch if you were lucky enough to catch a game or a good set of highlights. They had Mahmoud Abdul-Rauf, Bryant Stith, and Reggie Williams on the perimeter with LaPhonso Ellis and Dikembe Mutombo around the rim. They had lightning in a bottle off the bench with Robert Pack and a bruising big man off the bench in Brian Williams (who later became Bison Dele). In 1994, they were the youngest team in the NBA and managed to easily secure the eighth seed with a 42-40 record.
They were taking on a Seattle SuperSonics team that went 63-19 -- easily the best record in the NBA. The Sonics weren't supposed to lose much in the playoffs at all, let alone in the first round to an eighth seed. Such a collapse had never happened to a top seed so early in the playoffs. Then history happened:
The final image of Mutombo on the floor with a vice grip on the ball overcome with elation and joy at such a shocking victory in Game 5 was one of the staple images of NBA basketball for quite some time. It was the little guy overcoming a giant in a game amongst giants. Mutombo's 31 blocked shots in the five-game series were a record, one that will never be broken now thanks to a move to seven-game series in opening rounds.
It ended up being fleeting success for the franchise. They'd make the playoffs and lose to the San Antonio Spurs in a sweep in 1995 and failed to make the playoffs in 1996. Later that year, Mutombo signed with the Atlanta Hawks and the Nuggets went to severe mediocrity before drafting Carmelo Anthony in 2003.
The time in 96 the Denver Nuggets beat the Chicago Bulls
1994 wasn't the only time the Nuggets shocked a much better opponent. While it wasn't quite the stage of the NBA playoffs, the 1996 Nuggets team that would miss the playoffs altogether ended up being a bump in the road for the historic Chicago Bulls team that went 72-10 that season. On February 4, 1996, the Nuggets hosted a Bulls team sporting a 41-3 record.
Thanks to an incredible effort (which you can see in the video below) by Mahmoud Abdul-Rauf in his duel with Michael Jordan, the Nuggets were one of three teams under .500 that season to beat the Bulls. This game was highlighted in Jeffrey Morton's post I linked to above, but I liked this video much better because it shows more of both sides.
Thanks to WGN being a national cable channel, I was able to watch a lot of Chicago Bulls' games in the 90s and a lot of "Family Matters" reruns. I actually remember watching this game on WGN when it happened. It was a game I luckily just happened to turn on and was terribly confused as to how the Nuggets were even able to make this close, let alone pull off the 105-99 victory. Jordan had 39 points but Abdul-Rauf nearly matched it with 32 points of his own.
A funny little line early on from the Bulls announcers (who weren't the least biased tandem I've ever listened to) happened after Bill Wennington knocked down an open jumper. They said, "you roam around on Bill [Wennington], he'll have a career night." That's sort of true; Wennington did have a career night. He scored 18 points on 9 for 21 shooting. Those 21 shot attempts were a career-high for him. His career-high for points is 21.
Michael Jordan never dunked on Dikembe Mutombo... until he did
Those Denver Nuggets teams were built around Mutombo's ability to turn away shots at the rim. In three of his five seasons with the Nuggets, Mutombo led the NBA in blocked shots and blocked shots per game. In 1994-95, he won the first of his four Defensive Player of the Year awards. In his first season with the Atlanta Hawks, he won his second Defensive Player of the Year award and was so confident in his ability to block anybody who tried to dunk on him, he even started taunting Michael Jordan.
As we've learned from many examples over the past 30 years, you don't really want to provoke Michael Jordan. As the Eastern Conference All-Stars were suiting up for the 1997 All-Star Game in Cleveland, cameras caught a candid moment between Mutombo and Jordan that ended up being the start of a challenge taken by Jordan. Mutombo informed Jordan that the Bulls' omni-star had never climbed Mt. Mutombo and successfully dunked.
As you can see in the video, Jordan eventually got his chance to dunk on Mutombo and came through. It happened in the fifth game of the playoffs series between the Bulls and the Hawks. Jordan took a bounce pass from Luc Longley as MJ cut across the baseline past Tyrone Corbin. Mutombo was late rotating over and he wasn't quick enough to turn away Jordan's dunk attempt. MJ waived his finger at Mutombo, taunting the defensive center with his own signature finger wag and earning a technical in the process. 
The Bulls won the game and closed out the second round series with a 15-point win. Jordan had 24 points on 23 shots, but walked away with his self-imposed bounty, bragging rights, and another playoff series notch on his belt.
The LaPhonso Ellis block
It's impossible for me to think about these Denver Nuggets teams of the 90s and people dunking on one another without thinking about LaPhonso Ellis. Ellis was one of my favorite players from that era of basketball and should have been a lot better than he ended up being. He was a high-flying, powerful dunker that loved to protect the rim, soar for boards, and even had a nice midrange jumper.
Unfortunately for Ellis, he had a couple of knee injuries after his first two years in the NBA. In those first two seasons, Ellis averaged 14.7 points and 9.1 rebounds as a rookie and 15.4 points and 8.6 rebounds in his second year. Then one knee injury came after another. Before you knew it, he had missed 107 of 113 possible games during one stretch. After the knee injuries, LaPhonso Ellis ruptured his Achilles' tendon near the end of the 1996-97 season and was never quite the same athlete were saw before the injuries.
Prior to the injuries though, Ellis routinely threw down emphatic dunks and still has my favorite blocked shot of all time:
The "capture block" is easily my favorite type of block in the NBA because it's so demoralizing for the offensive player and it just looks pretty cool in general. It's also extremely rare. We've seen Chris Webber do it before (Play No. 2). JaVale McGee did it recently (and honestly, this should be his signature move rather than him just retweeting himself and falling down on the court). Even Blake Griffin had a cool one last season. But to do that to a dunk attempt is just absurd.
That's not nearly enough LaPhonso Ellis for this post though. He wasn't quite Shawn Kemp -- like we saw in last week's Rabbit Hole post -- but he was enough of a precursor to Antonio McDyess (he could probably have his own Rabbit Hole post) to whet the appetite for Denver big men throwing down on defenders. Let's have some more:
That's much better. Also, how weird is it to see him wearing No. 3 for the Miami Heat? We've grown so accustomed to Dwyane Wade wearing that number for them that anybody else wearing that jersey just looks odd.
Robert Pack was the other frequent flyer in Denver
If I'm going to be self-indulgent and start showing you LaPhonso Ellis highlights, I might as well unload the entire clip of my Denver Nuggets' favorites from a couple decades ago and start blathering about Robert Pack. We had plenty of great point guards in the 90s with John Stockton, Gary Payton, Jason Kidd, and countless others, but there wasn't a single point guard (no, not even you, Matt Maloney) I liked more than Robert Pack. There was something about the 6'2" body with the flat top hair flying through the air to dunk on big men that sold me on Pack from the first moment I saw his highlights. 
Unfortunately, I'm not able to post many of the highlight reels he has on YouTube because they're usually put to music with lyrics I'm not allowed to post on this platform. But I can link you to a couple of them (!!!) if you'd like to click through. I also have a couple of acceptable YouTube videos of Robert Pack's exploits.
The second video is a bunch of highlights of him during Game 5 of the series victory over the Seattle SuperSonics that I spoke of earlier in this post. He had 23 points in 36 minutes off the bench in that game after averaging 8.0 points in the previous four games of the series.
What's Robert Pack doing now? He's an assistant coach for the Oklahoma City Thunder now after just being hired by them this summer. Prior to that, he spent three seasons as an assistant coach for the Los Angeles Clippers, which leads us to one of the weirdest, greatest, and most genius music videos I've ever seen.
What does the fox say?
Dan Woike of the Orange County Register is a really good beat writer and a friend of mine that I exchange texts with about such movies as "Save the Last Dance" and "Super Babies: Baby Geniuses 2." Dan knows my sense of entertainment and can easily tailor his messages and tweets to me, knowing full well I'm easily intrigued.
He sent me this music video on Thursday by a group called Ylvis. Ylvis is a Norwegian variety show group that has staged some really incredible music videos. It's exactly what Lonely Island probably should have become. There are some really great videos that I can't embed in this post because of language and sensitive materials in them. But I can link you to this one and this one. Just know they aren't suitable for work. The rest you'll have to find on your own.
However, this one below is clean and makes you wonder about how foxes communicate:
What does the fox say? It says, "Have a great weekend watching NFL football on CBS."
Lue does not expect the Cavs' big trade to affect the team's starting frontcourt ... at least...

Dwight Howard wants to be a farmer in his future and retire with his donkeys

K.D. is still battling online critics, while the new Celtics guard is openly disregarding LeBron...
Collins has been working as a broadcaster, and previously coached the Bulls from 1986-89

Before accounting for revenue-sharing payouts, 14 of league's 30 teams reportedly lost money...

Howard considered calling it quits after his second season with the Houston Rockets