Manu Ginobili is the chaotic counter for the Spurs' perfect structure
Over the past 12 years, Manu Ginobili has brought unpredictability to what the San Antonio Spurs do. He's a big reason they were able to bounce back in 2014.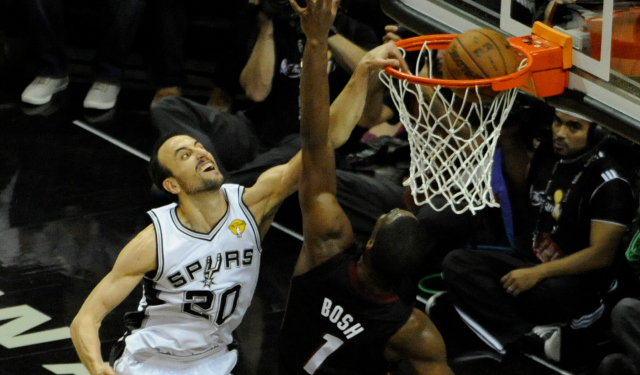 More NBA Finals: San Antonio wins title, beats Miami 104-87 | Court Vision
SAN ANTONIO -- In an environment in which structure and repetition are embraced by unselfishness to foster an offensive system that never deviates from the plan, being able to throw a tornado into the mix at any time seems like the ultimate change-up for Spurs coach Gregg Popovich.
The San Antonio Spurs have built an institution of winning basketball, and it's because of the dedication to the plan (and players buying into that plan) that the franchise has stockpiled five titles.
Within that structure, the Spurs have had a weapon few teams are able to unleash. They've had the controlled chaos Manu Ginobili brings to any game. The 12-year veteran has spent his entire NBA career with the Spurs after being the second-to-last pick of the 1999 NBA Draft. And while it took him a few years to come over to the NBA, the weapon he became for the Spurs was well worth the wait.
Ginobili has a reputation as a flopper because he's been known to sell a call that may or may not be there. But his defense over his 12-year career has been remarkable outside of that stigma. His positioning and anticipation almost seem alien in how advanced they can be. He often knows when to gamble for a steal, slide into position for a charge or slap for the ball as a defender brings it across his body. His defense goes underappreciated, but his opponents know they have to be careful when Manu is lurking.
His overall reputation, though, is being something of an enigma. He's as athletic as most shooting guards in the NBA but uses more of his athleticism side-to-side than he does going to the rim (although he's been known to dunk on a defender or two). He didn't invent the Euro step (and I'm not even sure he's perfected it) but he's certainly left defenders swiping at ghosts and silhouettes over the years as he circumvents whatever defense they're trying to throw his way. The Argentinian Assassin has been flustering opponents for years and making them look foolish.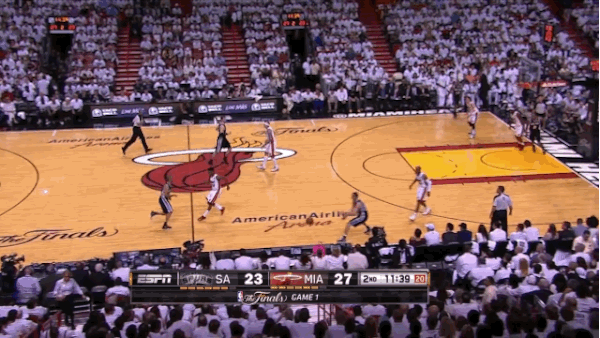 The sacrifice of his personal statistics is well documented. Including the playoffs, Ginobili has started roughly 41 percent of his career games. He's been good enough to be a 12-year starter, even in his later years when we've seen less consistent play from him. And yet he's been willing to be the Kevin McHale of shooting guards, giving up the glory of starting in order to balance out his team's incredible attack.
"I think he surprised everybody," Tony Parker said after the 104-87 Game 5 victory for the Spurs' fifth title. "That was a big dunk. Manu was just in that mode. He was very aggressive and just made one of those plays that we all know that he can do."
"The last time I tried I got blocked by Caron Butler against OKC badly," Ginobili said about his dunk on Chris Bosh in Game 5, "and I was made fun of by my teammates in a rough way. They actually made me promise that I wasn't going to try that again, and I said, yes, I won't try that again.
"But in the heat of the battle with the adrenaline pumping and the situation really, I don't know what happened. I went hard and once I was in the air, I felt like I had a shot, and I tried. I think it helped me, and it helped the team too to get pumped up."
That balance was on full display Sunday night when Ginobili checked into Game 5, made his impact felt immediately, and jumpstarted a Spurs attack that simply overwhelmed the Miami Heat. When Ginobili scored his first bucket of the game, it cut the deficit to 22-6. He was responsible for nine straight points in the first quarter (six off his scoring and an assist for a Kawhi Leonard 3-pointer) and eight straight in the second quarter. Those scoring runs were backbreaking and he fired up the crowd with step-back 3s and the big dunk on Chris Bosh, which seemed to suck the energy out of the Heat.
It's the kind of scoring runs Ginobili has done for the Spurs nearly his entire career. He's been the change of pace, the herky-jerky lefty who can't be contained. Defending him would be a lot like trying to cut your own hair while looking into a funhouse mirror. His game is about freelance within the structure of the spacing that Popovich's offense provides. It's what makes the Spurs so difficult to defend. You have to stay regimented in how you approach their passing and cutting, and then here comes Ginobili with a move you never expected to throw everybody into a scramble.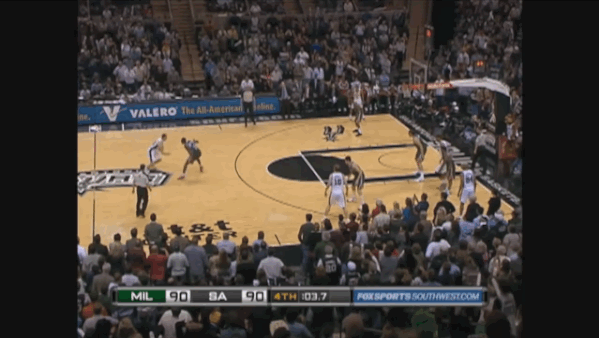 "He's the kind of guy who wants the ball in pressure situations," Popovich once said about him, "and if he doesn't get it, he looks over at the coach like, 'Don't you know I'm here?'"
Ginobili has been a late-game hero countless times in his career. He demands the ball in big situations and is more than willing to come through under pressure. His creativity with the dribble and the pass are almost physically impossible. He can curve a basketball on a cross-court pass like it was a baseball. He can make you think you're picking his pocket before you realize he's at the rim and you're standing in the same place. He's a dead-eye shooter and a cold-blooded scorer.
His entire game is one big freestyle moment. It's why opponents are so frustrated by him and so in awe of his game. He brings playground moves to the NBA floor, but it never takes away from the goal at hand. Back in 2007, Kobe Bryant joined TNT's Inside the NBA crew in-studio after being eliminated from the playoffs. At one point, they were going over highlights of Ginobili and Bryant started speaking excitedly about what Manu does on the court.
You had one of the greatest players of all time in his prime, and he was gushing over Ginobili's game and how perfect his moves were like he was a fan at home boasting about his favorite player on Twitter. This is the effect Ginobili has on a basketball game. His presence has given the Spurs a weapon opponents couldn't often account for over the past 12 years. Now he's a four-time champion and while he's never won a Finals MVP award, he's been an integral part of what makes the Spurs so great.
He's an impossibly talented player willing to wait his turn, bide his time, sacrifice his own personal glory, and listen to what Popovich wants him to do. He doesn't let ego get in the way of the overall goal, which is winning championships. Once again, he and his teammates will hoist the trophy as a team and revel in the accomplishment of the collective.
"Seeing how involved and how important everybody that was part of the team felt made it even more special," Ginobili said. "I feel so happy and lucky to be on this team."
The inaugural BIG3 season comes to a close Sunday with the championship game

Thomas was traded to Cleveland yet some fans are taking it out on him ... and his jerseys

The Celtics dealt the No. 1 pick to Cleveland as part of the Kyrie Irving-Isaiah Thomas tr...
Thompson was rumored to have been a point of discussion with the Cavs regarding Kyrie Irvi...

What the Celtics and Cavs look like after the Eastern Conference powers swap point men

Simmons was the No. 1 pick in the 2016 NBA Draft but did not play last season