Manu Ginobili's passing 'craziness' opens up the Spurs offense
A GIF-by-GIF breakdown of Ginobili's passing brilliance in Game 1 vs. Miami.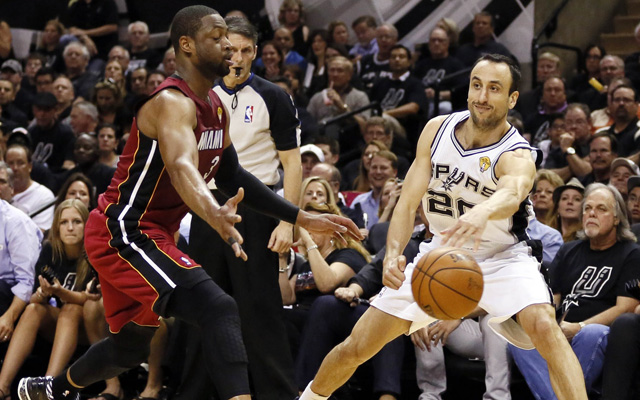 More Game 1: Court Vision | LeBron's cramping | Steamy conditions
SAN ANTONIO -- In Game 1 of the NBA Finals, Manu Ginobili was his most magnificent (or Manuficent if you prefer): 16 points, five rebounds, three steals and just two turnovers for a team that bled turnovers all night. But it was his 11 assists that made him the most deadly. The Heat's aggressive trap out of pick and rolls is supposed to stall the ball, which allows them to lag off of shooters or the roll man. The Heat's length and strength is supposed to deter lob entry passes and quick-strike perimeter swings to shooters. 
Ginobili rendered that element largely irrelevant. 
Ginobili's passing isn't the laser-sharp precision instrument of Chris Paul, or the wide, sweeping tank rotation of LeBron James. His passing, which helped the Spurs win 110-95 in Game 1, is a brush stroke of creativity mixed with what Boris Diaw calls "craziness." 
"It's really a bit of everything," Diaw said at practice Friday. "You can't define one quality in a passer like Manu. He's definitely got the vision, because he knows what's going to happen. It's the skill, to be able to make the pass and deliver the ball wherever you see somebody's free. Some guys have the [vision] but it's harder to efficiently, quickly make the pass to the right place. And he's got a little bit of craziness because he takes some risks sometimes by making passes others wouldn't if they're a little more conservative. "
Like this. 
Few players combine that vision, skill and creativity as a passer. That Ginobili is still this good at his age makes it that much more impressive. That he's doing it against this Heat team makes it spectacular. 
Heat forward Chris Bosh said Ginobili's unpredictability and boldness are what make him so dangerous. 
"You don't know where he's going to pass it," Bosh said. "A right hand pass, a left hand pass, a one-handed pass, between your legs, behind your back, he'll make any pass. It's the Finals, I'm thinking guys will be more fundamental, but he just does what he does. He's in control of not only every pass, but the secondary passes that lead to an assist."
Ginobili had two "hockey assists" to add to his 11 assists in Game 1. And he definitely is daring. Watch how he splits the double team here swinging between two defenders. 
The Heat defense is different from most of what you'll see. It's designed to trap aggressively, even risking open shooters, to create turnovers -- like the 22 Miami forced in Game 1. Tiago Splitter noted that's different from what most teams do, which makes it harder for the Spurs to counter. 
"They play very aggressive," Splitter said. "They do some stuff different than other teams do. They double team you, they force those turnovers. Sometimes they don't care if they leave a guy open, they want to force those turnovers. That's why we got so many open looks, but also so many turnovers.
But Ginobili threaded passes through the Heat doubles, which meant they had multiple options. Watch the crazy angle he makes on this pass to Splitter, and also note how open the shooter is at the top of the arc if he needs to adjust at the last second. 
Ginobili loves that jump pass. He used it to an excruciatingly effective degree in Game 1. Shane Battier noted that part of the issue is that Ginobili takes such unorthodox angles. 
"His angles are not what you're used to," Battier said. "He can make a pass at any angle. Most guards, there's only a certain amount of slots they can pass from, so you can anticipate those. His unorthodox moves and balance, keeps you off guard. You can't really get into him as much."
Kawhi Leonard believes the key for Ginobili is his vision, but also his unselfishness, Ginobili's willingness to always find the shooter. 
This is a huge part of these Finals. Last year, the Heat found ways to contain Ginobili on the perimeter, closing off his windows of opportunity and forcing bad passes out of closing traps. Now, Ginobili is quicker with his decisions, feeling better physically and getting much further past containment by the defense. 
Ginobili is a once-in-a-lifetime player when it comes to his skills. He has the confidence to take and make huge 3-point shots, can create fouls out of thin air with his, ahem, theatrics, and his passing skills are remarkable. It's that kind of passing ability, shared by Boris Diaw and Tony Parker, and the fundamentals of the Spurs' role players that open up the engine of the Spurs' offense. 
And if the Heat can't find a way to throw a wrench in that motor, this series could become even more perilous for them. 
The investigation detailed a hostile workplace environment

Cousins suffered a torn Achilles tendon on Jan. 26, and will miss the rest of the season

Ingram has become one of the team's go-to players with Lonzo Ball sidelined with an injury
Giannis skipped EuroBasket last summer, and has missed four games this season with knee so...

Some of the best and worst from the league as we head into the home stretch of the season

Cuban acknowledged that tanking is 'brutal' and that he will no longer do that after this...