SACRAMENTO -- Marc Gasol of the Memphis Grizzlies is the best big man in the NBA so far this season.
That claim probably seems ridiculous to many people outside of Memphis -- maybe even to people inside of Memphis, as well. Dwight Howard is a far more decorated big man in the NBA in terms of accolades and an NBA Finals appearance. Blake Griffin and Kevin Love have put up some incredible stat lines and made All-NBA teams for years. Anthony Davis looks to be starting the revolution on the court in New Orleans as he blows us away as a third-year player on a nightly basis.
But Gasol is the one that is quietly playing the best big-man basketball while the Grizzlies establish themselves as an elite team. Their 15-3 start gives them the second-best record in the NBA, a 68-win pace for the season, and their best start in franchise history. An elite defensive team for years, the Grizzlies have finally found a balance between the offensive and defensive ends of the floor that have catapulted them toward the top of the league.
The reason for the symbiotic relationship of the offensive and defensive ends of the floor? The concept of "one team, one goal," as Grizzlies' defensive guru Tony Allen explains, keeps the Grizzlies focused on their game plan and what they're supposed to do on the floor. And the reason the offense caught up to the defense is primarily the increased involvement of Gasol on that end of the floor.
"It's been that way but I think it's more instilled now," Allen explained when asked about that mindset being more of a priority this season. "After losing in the Western Conference finals and just wanting to get back to playing in late season, that's just been the talk since training camp. And guys are focusing in, taking it game by game, and I think that's the key."
The "one team, one goal" mindset isn't a new concept in basketball. The San Antonio Spurs, a Grizzlies' playoff foe, have embodied this for 15 years-plus, as have the Ubuntu mindset of Doc Rivers' 2008 championship Boston Celtics, any Phil Jackson-led title team with the Chicago Bulls and Los Angeles Lakers, and what the Miami Heat were able to figure out in back-to-back seasons. It may be packaged in a different way of marketing or getting through to the players, but the idea of everybody being on the same page for the team goal is always the mindset needed to carry out becoming a legitimate title contender.
"That's been our focus all year," Allen said when asked about worrying about their game and not what their opponents are doing. "Key in on our opponents beforehand, listen up in shootaround, listen up in pregame, and go out there and have carryover. The main thing is 'one team, one goal.' Playing inside-out basketball and hold our hats on the defensive end. If we keep that focus for 48 minutes, we're going to get results like this, no matter how many runs they make."
The Grizzlies concentrate on what they want to do as a team and try not to worry about what their opponent is doing. If Memphis plays their game, they'll put themselves in a great position to win and the opponent will always have to adjust to them and keep trying to match that intensity and level of execution.
"Is that what Tony said?" Gasol joked when I asked him about Allen's comments on focusing on what they do instead of the opponents. "Tony says a lot of things and sometimes he's right.
He's right, though. When we do what we're supposed to do, it seems to take care of a lot of things. When we don't, we got to start worrying about what they're trying to do because we're not [playing] at our level."
As the Grizzlies' level of play has increased over the years, so has the involvement of Gasol on offense. Or maybe that's the other way around. It's been a synergistic effort by all parties involved that have used Gasol's immense talents on that end of the floor to turn the Grizzlies into a force to be reckoned with on offense.
Memphis isn't challenging the Dallas Mavericks for the best offense in the NBA, by any means, but after 18 games this season, they're a top 10 offense in the NBA. As Gasol's usage rate over the past four seasons has increased, so has the Grizzlies' offensive efficiency. The Grizzlies have gone from using Gasol 19.1 percent of the time on offense in 2011-12 and having the 21st ranked offense in the NBA to the 10th ranked offense with Gasol's usage rate climbing to 25.4 percent.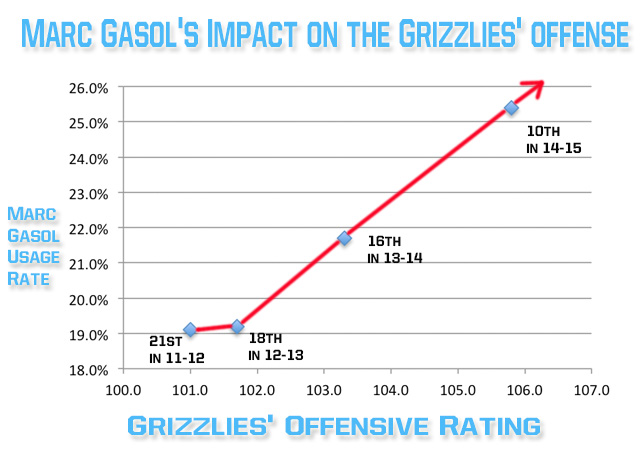 Has this increase in offensive responsibility been something Gasol asked for or is it a natural progression?
"I don't think that's something that I asked for," Gasol said. "That's for sure. I didn't ask for anything. I feel like I'm not playing out of myself. I don't feel like I'm doing something I haven't done before. The only difference is I feel like we're playing with the tempo and the pace that we play in the playoffs, more than the regular season. I don't see much of a difference. I know it's different points wise but as far as aggressive play, I feel like that's how I've always played later on in the playoffs."
Gasol's career-high of 19.4 points per game is the most notable part of his game this season. He's had a slight increase in shot attempts (12.1 per game to 13.6) and he's getting to the free throw line a lot more (free throw rate of 33.9 percent increased to 49.2 percent). And while his rebounding doesn't blow you away (8.0 per game), that aspect of his game coupled with the scoring and his passing put him in a rarified air this season.
He's the only player in the NBA to average at least 19.0 points, 8.0 rebounds, and 3.5 assists. Gasol and Joakim Noah of the Bulls are the only players in the NBA to average at least 8.0 rebounds and 3.5 assists, and Gasol is averaging 11 more points than Noah. His passing turns Gasol into one of those rare centers that can facilitate, defend, and score -- something you just don't see out of too many big men.
"When you see the floor and you understand the game and you're trying to break it down with what you have in front of you, you can do it offensively and defensively," Gasol explained. "And you try to take advantage of it both ways. You see where the offense's head is and you can kind of read what you want to do.
"I think it has to do more with the players that I grew up with and the importance of how much passing is to a team. The way I grew up was making the right play every time. Where I'm from, we don't take shots over two guys. When someone is doubled, it's the next man's job to take the shot and make it."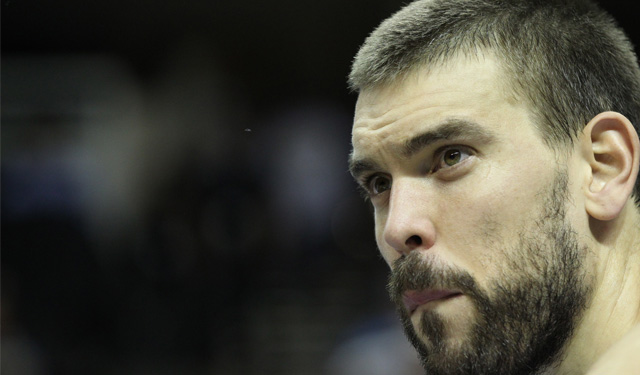 They've made a more conscious effort to get into their offense earlier so they have more time to pick apart a defense and put their opponents on their heels. They've gone from being the slowest pace team in the NBA last season to 22nd -- a modest but important increase that has helped them improve offensively, as well. They've had an increase in the percentage of shots taken in the first six seconds of the shot clock (14.0 percent to 17.2 percent) and a 3.5 percent decrease in shots taken in the last four seconds of the shot clock.
Gasol says getting the offense going around 19 or 20 seconds on the shot clock instead of 16 has helped create the necessary ball movement to expand their offensive capabilities.
"We've got to share it," Gasol said. "We've got to move it. When we stay on one side of the floor, we're real predictable. That creates us being static and when we miss a shot or turn the ball over, it's really hard to get back on defense.
We still have to keep moving the ball and not just play through one guy. We got to still play three sides of the floor if possible. That's great because you make them work, you make them turn their heads, and get out of position. Even if you miss a shot, you have a great chance to get the rebound because you don't have a guy right next to you boxing you out."
The Grizzlies' center has also directed the Memphis defense to give up just 98.3 points per 100 possessions -- the fourth best defensive rating in the NBA this season and the second best Grizzlies' defensive rating during the past four years. They combine a new offensive prowess with the same old incredible defense.
Gasol has been one of the best perimeter big man defenders for years, which helps him execute pick-and-roll coverage as well as any big man in the league. It's a big part of the reason he won 2012-13 Defensive Player of the Year award. Combine that with his ability to alter shots in the paint and bang with any big man on the low block and you can see just why his defensive impact is as important as any other player in the league.
Often when comparing players, the flash and hype of another more aesthetically pleasing player can get in the way. While the Pelicans' phenom Anthony Davis has 22 more blocked shots than Gasol, Gasol's opponents are having a tougher time making shots at the rim (49.1 percent) than Davis' opponents (50.9 percent). That's not to knock Davis by any means; it's simply to show that the blocked shot statistic isn't always indicative of how well a player can defend shots.
Gasol's offensive and defensive prowess are hard to match individually, let alone as a total package for a player. He's currently only the 15th player (42nd season overall) in NBA history to average at least 19.0 points, 8.0 rebounds, 3.5 assists, and 1.5 blocks in a season. No other player is doing that this season and very few have been able to do that ever (since they started keeping track of blocked shots in the 1973-74 season).
"You'll probably get killed for saying he is," a Western Conference assistant coach told me when I gave him my assessment of Gasol being the best big man in the league. "Truth is we used to be able to game plan much easier for the Grizzlies when Marc wasn't so involved. Load up against one or two guys. Now they have the depth and weapons to spread you out. Give Marc weapons and the ball and we still don't have a great plan for limiting his talents."
One team, one goal, and one hell of a big man to facilitate it all.