Marc Gasol on Memphis: 'I don't see myself anywhere else'
There's no need to panic about Marc Gasol's future, Grizzlies fans.
• 1 min read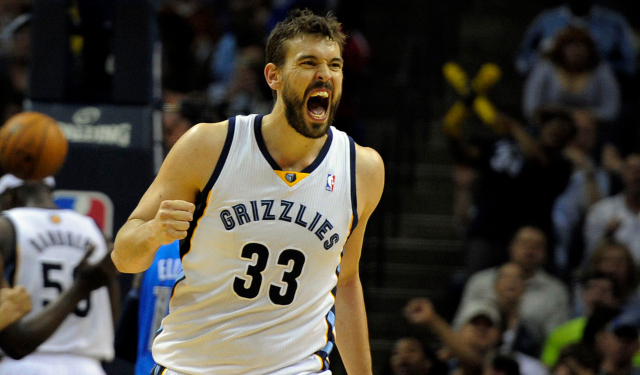 More Offseason Analysis: Coaching changes, news | Free Agency | Draft
Memphis Grizzlies center Marc Gasol will be an unrestricted free agent after next season, but it looks like there won't be any Kevin Love-style drama as he enters the final year of his contract. Gasol told Ronald Tillery of the Memphis Commercial Appeal that he does not plan to leave, via ProBasketballTalk:
"I've always said Memphis is my home away from home," Gasol said. "Robert (Pera, Grizzlies owner) knows that. I know that. My teammates know that and that's all that matters. I live day to day but I don't see myself anywhere else."
The former Defensive Player of the Year has been with the Grizzlies since he came to the NBA in 2008-2009, and his growth into a game-changer has been something to behold. He'll be 30 when he hits free agency, he'll be due for a massive payday and losing him for nothing would be a catastrophe. Big-market teams like the Los Angeles Lakers and New York Knicks will have cap space then, and there will be no shortage of suitors for his services. Able to protect the rim and defend the pick-and-roll, finish around the basket and facilitate, Gasol is one of the best two-way players in the league. It's great news for Memphis fans that he wants to stick around.
Still, the Grizzlies do need to make sure they don't mess this up. They've had a chaotic offseason, with their CEO and assistant general manager walking out the door and their head coach coming close to following them. Zach Randolph could potentially go somewhere else this summer, though it sounds like that would be unlikely. Ed Davis can be a restricted free agent this offseason, too.
When it's time to negotiate with Gasol, he will need to believe that things are stable and he can win a championship in Memphis. Being comfortable and loyal sounds great now, but there is still some pressure on the Grizzlies.
There's no shortage of moments to choose from

The Trail Blazers almost traded for Charles Barkley, but when they didn't, it put them in debt...

The self-proclaimed ASG snub Williams may be bitter about Butler requesting to sit out Sun...
The commish said they were overly conservative with the decision this year, but that should...

A dive into the NBA history books for every result from every NBA All-Star Game

James set the tone during practice that this year's All-Star Game was going to be differen...