Marcin Gortat doesn't want to abandon 'sinking boat' in Phoenix
Marcin Gortat says he doesn't want to leave Phoenix and "feel like a loser."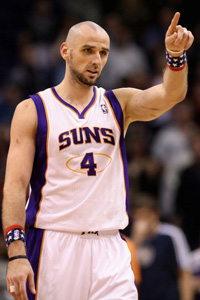 Marcin Gortat says he doesn't want to feel like a loser.
(Getty Images)
Marcin Gortat has been upset all season with his role and the fact that, you know, the Suns are terrible. He's been candid in his comments. But despite all that, the Suns center recently told CSN New England that he doesn't want a trade. Well, kind of. 
It's more that he won't request a trade because he wants to go down with the ship. No, seriously. 
"Basically, I just don't want to feel like a loser and escape," he told CSNNE.com. "The team needs you and then all of a sudden you escape because you said you wanted to be traded or you asked for a trade? It's not like that. 

"If someone's going to decide to trade me, it is a business. I'll understand that. But now I'm on the Phoenix Suns and I'm going to help."

"Right now I feel like it's hard to leave this sinking boat, you know what I mean, just go to a different team and escape from everything. I started with this team in training camp. I've been here for three years right now. This is my third year and basically I'm trying to help this team, help this team as much as I can. That's the main goal, but I learned also that this is business. Whatever's going to happen is going to happen."
via Gortat to Celtics? Not likely.
You know that has to make the rest of the Suns feel good about themselves. Hey, they're a sinking ship, but don't worry. Gortat won't abandon them because he doesn't want to get pegged a loser. 
Inspirational. Really. 
The truth is the Suns need major roster changes to clear salary and revamp the inefficiencies on the team, and they need a new star to build around. The preseason plan wasn't terrible, attempting to build around versatile veterans. But the gamble hasn't worked out. It's time for a new direction. 
And even if Gortat isn't asking for a life vest, it may be time to set him to sea and see what comes back in the message in the bottle. 
OK, I'm done with the sea metaphors, matey. 
The Pistons put out a long list of details regarding their new uniforms

The Pacers traded the forward to OKC for two former lottery picks who have yet to reach their...

Gilbert said what was expected, but didn't necessarily sound all that confident
Altman addressed the media about Irving during his introductory news conference

Toronto's center has an uncertain future; can we still talk about this 25-year-old's poten...

Oakley was vague with his response on when he'd attend another Knicks home game