Marcin Gortat: 'I would love to be back here on this team'
"I can't play with blind point guards." -Marcin Gortat, explaining why John Wall is a big positive factor when it comes to returning to Washington.
• 1 min read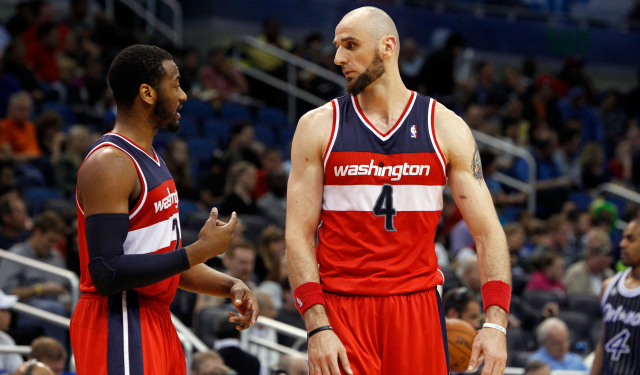 More Offseason Analysis: Coaching changes, news | Free Agency | Draft
Marcin Gortat is a major reason why this year's Washington Wizards enjoyed their first playoff-series win since 2005. Acquired from the Phoenix Suns just before the start of the regular season, he provided a presence in the paint and an excellent pick-and-roll partner for point guard John Wall.
Approaching free agency, the 30-year-old Gortat said the 23-year-old Wall will factor in to his decision.
Gortat: "I can't play with blind point guards. I can't do that. I have to play with a willing passer ...John is probably atop that list."

— Ben Standig (@BenStandig) May 16, 2014
Gortat averaged 13.2 points, 9.5 rebounds and 1.5 blocks per game for Washington, shooting 54 percent from the field. Wall averaged 19.3 points and 8.8 assists per game, leading the league in total assists. The chemistry between the two of them got better as the year went on. Gortat would like to keep that going, via CSN Washington's Ben Standig:
"There are a few different things I'm going to look at and definitely one the biggest things for me is a point guard. Obviously John is a tremendous talent. He's definitely going to get better next year. That's going to be one thing I'm going to look at."
The center spoke of his young Wizards teammates building on their postseason experience, using the word "we" and directly saying he wants to stay where he is:
"Now they know it's totally different basketball than the regular season," Gortat said. "Hopefully they're going to use this as experience for next year. I'm 100 percent sure they're smart enough to understand they have to work in the offseason. Next year we'll be a much better team."

…

"I would love to be here. I would love to be back here on this team."
Washington would surely love to have him back, too, but money is an issue. This is probably Gortat's last big payday, and starting small forward
Trevor Ariza
is also a free agent. It's not clear how much the Wizards would be willing to allocate for Gortat, or what their backup plans are. As badly as the big man wants to return, he and his team will have to agree on a contract that works for both sides.
Fergie: 'I'm a risk taker artistically, but clearly this rendition didn't strike the intended...

Victor Oladipo had a successful R&B album over the offseason and Jamie Foxx is a fan

Klay Thompson makes sure he stands out during All-Star Weekend
There's no shortage of moments to choose from

The Trail Blazers almost traded for Charles Barkley, but when they didn't, it put them in debt...

The self-proclaimed ASG snub Williams may be bitter about Butler requesting to sit out Sun...