Marcin Gortat pounds the Pacers into oblivion
The Wizards center scored a game-high 31 points as they extended the series.
• 2 min read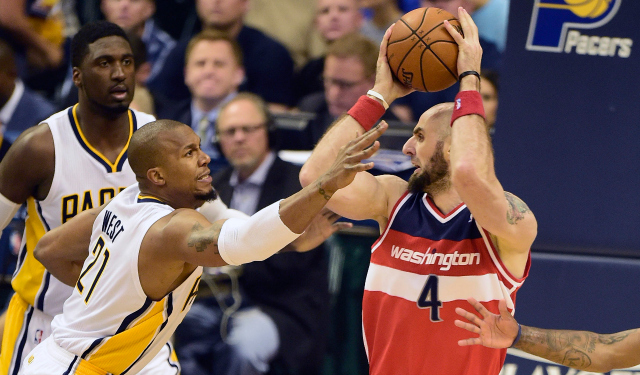 More postseason coverage: Playoff schedule, results | Latest news, notes
Talking to TNT after the Washington Wizards' 102-79 victory on Tuesday, Marcin Gortat said he went into Game 5 wanting to play the best game of his life. The center said he knew he was a better player than he'd shown in his last two tries against the Indiana Pacers, where he had scored a total of six points on 3-of-10 shooting. After his two-point, two-rebound performance in Game 4, he wasn't planning to be a decoy again.
"Personally for me it was one big hell," Gortat said at the postgame podium, after he did indeed have the game of his life with Washington extending the series.
Compiling 31 points on 13-of-15 shooting, he annihilated Indiana on the inside. Gortat had never scored more than that in the NBA, and his 16 rebounds through three quarters were more than the Pacers had has a team. Gortat only averaged 13.2 points per game in the regular season, subsisting mostly on pick-and-rolls, putbacks and broken plays, but after a strong start the Wizards actively looked for him.
"We did make a conscious effort to start the game to get the ball inside more than we did in Game 4," Washington head coach Randy Wittman said. "And then he took it from there. He played outstanding. He was as energized as he's been."
Gortat said he was in a zone, and his confidence grew after he made his first few baskets. When he started feeling great, he just started attacking the rim. There was no reason to stop.
"In the middle of the game, it was just fun to be in the game," Gortat said. "Everything works, you feel immortal. You just want to go and score. You want to help the team."
Indiana's Roy Hibbert had made an impact in Indiana's three consecutive wins, but he was negated this time. Gortat got his hands on just about every rebound in his area, and generally acted as if the 7-foot-2 Hibbert wasn't even there. Pacers head coach Frank Vogel described him as "sensational," and a downcast David West went with "unbelievable," sounding as dispirited as you'd expect after a loss like that.
"He just had more juice than we had," West said.
The Wizards in general had far more vigor than their opponents. They pushed the ball at every opportunity, with Gortat's outlet passes mostly finding John Wall. The All-Star point guard had the best game of his young playoff career, finishing with 27 points, five rebounds and five assists. Indiana looked lost offensively, unable to create any easy baskets. Washington allowed only 34.5 percent shooting, and Gortat's one-on-one defense against Hibbert and his paint protection were responsible for a lot of that.
It's not every day that a complementary player erupts like this, and the Pacers will take a huge hit for the way they handled the pressure of a close-out situation. Washington deserves credit for delivering in the biggest moment of its season, though, and Gortat made all the difference in the world.
Nerlens Noel is now being represented by Rich Paul of Klutch Sports

Steve Kerr opens up about his back issues and more

OJ Mayo, banned from the NBA for positive drug test, is considering playing overseas
The King? 'LeBron, it turns out, is Aquaman,' or so the account via Dwyane Wade's wife goe...

From Penny to Thunder Dan to Pistol Pete to Agent Zero, guys who would be better in 2017

Griffin said recently he thinks it's more likely that LeBron James goes to New York than L...