Mario Chalmers' father sued by former business partner
The father of Miami Heat guard Mario Chalmers, Ronnie Chalmers, is being sued by his former business partner for allegedly stealing property from and illegally competing against their jointly operated sports agency.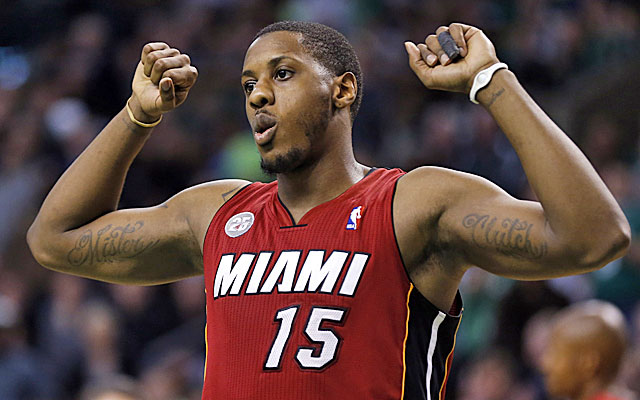 MIAMI -- Ronnie Chalmers, the father of Miami Heat guard Mario Chalmers, is being sued by his former business partner for allegedly stealing property from and illegally competing against their jointly operated sports agency.
The lawsuit, filed Monday in Miami-Dade County Circuit Court, seeks nearly $65,000 in damages, plus unspecified punitive damages to be determined at trial.
The elder Chalmers is being sued by David Sugarman, who jointly operated the SugarTime sports agency with Chalmers from December 2012 until April 2013. Sugarman alleges in the lawsuit that Chalmers did not pay his half of agency expenses during that time and was caught on video surveillance stealing documents and files containing propriety information from the agency's Miami offices the night before he resigned from the firm.
The elder Chalmers is a former director of basketball operations at the University of Kansas, where his son played. When he joined SugarTime, the elder Chalmers had expressed a desire to deliver his son as a client to the agency, though the Heat guard continues to be represented by Sam Goldfeder of Excel Sports Management.
Mario Chalmers is not a party to the lawsuit. Ronnie Chalmers could not immediately be reached for comment. 
Sugarman also alleges the elder Chalmers breached his fiduciary duties to the agency by, among other things, taking meetings with potential clients without the agency's knowledge. In one such meeting, Ronnie Chalmers met with a potential client's college coach at the Final Four in Atlanta this year and damaged the agency's chances of landing the prospect as a client because he forgot the player's name, the lawsuit alleges.
Chalmers also is accused of delaying the signing of another potential client because he "had an intention to sign the potential client to a competing sports representation agency," the lawsuit says.
Since emailing Sugarman on April 18 that he was resigning from the agency, Ronnie Chalmers has violated a non-compete clause in his contract by continuing to recruit potential clients, including 2013 draft prospects C.J. Leslie, Ben McLemore, Travis Releford, Elijah Johnson and Brandon Davies, according to the lawsuit.
The night before resigning, Ronnie Chalmers and an unknown accomplice were captured on video surveillance removing items from the agency's offices in Miami Beach, the lawsuit says. Chalmers returned "numerous items" upon request by the agency's attorneys at Wolfe Law Miami, P.A., the lawsuit says, but "continues to possess valuable, confidential and proprietary information that belongs to the Agency."
Sugarman also is suing Ronnie Chalmers for defamation, accusing his former partner of making false and defamatory statements to third parties about Sugarman in violation of his contract. The lawsuit asks the court to issue an injunction preventing Ronnie Chalmers from working for any sports agency and representing or recruiting clients for one year from the date he relinquished his stock interest in the SugarTime agency.
If the Bulls buy him out, Wade could reunite with his former Heat teammate this season

West was a huge piece in building the Warriors into the super team they became

The annual rookie survey is in, but if previous years are any indication it won't mean muc...
Annual NBA rookie survey yielded some surprising results, but none more stunning than this...

Iverson says the King always has a shot to win it, and gives him the upper hand in 2017

Could be an awkward meeting, whether Melo suits up for the home team or the visitors