Mark Cuban: Amnesty Kobe Bryant? Lakers have some decisions to make
Dallas Mavericks' owner Mark Cuban says the Lakers have decisions to make regarding their salary cap, and amnestying Kobe Bryant is an option.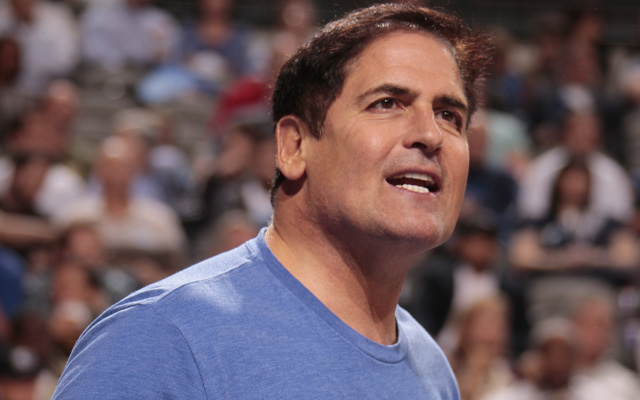 Mark Cuban could save the Lakers millions.
(Getty Images)
When there is an NBA blogger or pundit who claims a player should be amnestied, it's typically just throwing ideas out there as we try to understand the business and personnel ramifications of the new collective bargaining agreement in the NBA. It can be what we think is an actual solution to financial issues at hand, or it can be brainstorming out loud. If you are suggesting Los Angeles Lakers' icon Kobe Bryant needs to be amnestied, nobody is really going to take you seriously.
However, what if you're one of the best owners in sports and you wonder out loud if the Lakers should amnesty Kobe to free up some flexibility both financially and with their roster? ESPN Dallas says that's exactly what Dallas Mavericks' owner Mark Cuban said on the "Ben and Skin" radio show:
"If you look at their payroll, even if Dwight (Howard) comes back, you've got to ask the question: Should they amnesty Kobe?" Cuban said during an appearance on ESPN Dallas 103.3 FM's "Ben and Skin Show." 

"So I'm just saying that hypothetically. When I say amnesty Kobe, I don't think they'd do it, but they've got some choices to make. Now, they're in a big market, but they're still limited. The Knicks, the same thing. Boston, same thing."
That's some good old-fashioned needling right there. 
Kobe Bryant makes roughly $30.4 million next season, with his team roughly $7 million over the luxury tax threshold before they even begin to deal with Dwight Howard. If they re-sign Howard, they're going to have roughly $27 million committed over the luxury tax, and that's with only nine players under contract. At minimum, it will be into the $30 million range, and that's before you factor in the tax penalties. 
In the previous CBA, it was a dollar-for-dollar tax payment. In the current CBA, you pay $1.50 for every dollar you're over the luxury tax within $5 million. Once you pass $5 million over the luxury tax, it increases to $1.75 for every dollar over. After that, every $5 million over goes from $2.50 to $3.25 to $3.75 and increases $.50 for every $5 million after that. 
That means the Lakers could be looking at a tax payment of over $100 million next season. While they make more than enough money to cover a payment like that, becoming a repeat luxury tax offender will eventually hamper their chances of adding to their roster with biannual exceptions and a reduced midlevel exception. They also wouldn't be able to use sign-and-trades to acquire players.
The Lakers would probably never consider amnestying Kobe Bryant because he is arguably their best player (healthy Dwight Howard would alter that perception), and he generates a ton of interest and revenue for them. And even if this is just Cuban try to stir stuff up with the Lakers, it's an interesting exercise in economical thinking to figure out what the costs and benefits would be with such a seemingly improbable situation.
With 2K18 out everybody wants to know who has the 10 highest ratings in the game. Here's the...

Durant noted in an interview that all of the criticism in the immediate aftermath hit him...

Want the swagger of LaVar Ball? "NBA 2K18" lets you copy his absurd run from his WWE appea...
Durant apologized for a few tweets in which he criticized OKC and his former coach Billy D...

Lue does not expect the Cavs' big trade to affect the team's starting frontcourt ... at least...

Dwight Howard wants to be a farmer in his future and retire with his donkeys