Mark Cuban: NBA should 'create our own World Cup of Basketball'
Dallas Mavericks owner Mark Cuban has never been fond of the International Olympic Committee.
• 2 min read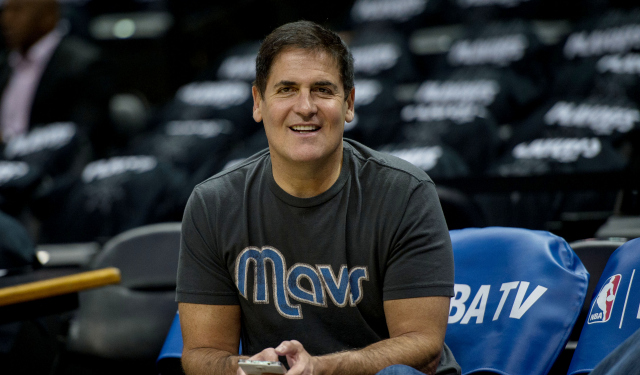 Offseason: Free Agency | Latest from Ken Berger | Rumors
Dallas Mavericks owner Mark Cuban has been vocal and critical about NBA players participating in international competition for more than a decade. With Paul George's injury, he's being asked to chime in again. Cuban's position has not changed at all, via ESPN's Marc Stein:
"My thoughts go out to Paul," Cuban told ESPN.com on Saturday. "I really feel for him."

…

"The (International Olympic Committee) is playing the NBA. The IOC is an organization that has been rife with corruption, to the point where a member was accused of trying to fix an Olympic event in Salt Lake. The IOC (pulls in) billions of dollars. They make a killing and make Tony Soprano look like a saint.

"The pros in multiple sports are smart enough to not play when they are eligible free agents. But teams take on huge financial risk so that the IOC committee members can line their pockets.

"The greatest trick ever played was the IOC convincing the world that the Olympics were about patriotism and national pride instead of money. The players and owners should get together and create our own World Cup of Basketball."
If this sounds familiar, let's have a look at what he wrote on his website in April 2004, which he linked again on Twitter on Saturday:
I understand that players want to represent their countries. That's great. Let's put together an NBA organized and sanctioned international competition that we can control and profit from. We can allow any country to enter a team, and let NBA players represent their country.

If it's that important, let's also expand the exhibitions the NBA plays in and against other countries. I'm all for international play as long as its in the context of an NBA program that gives consideration to the core NBA fan, customer and partner first and foremost.
The logic is pretty simple from a business perspective. The league and its teams are essentially loaning out players to make other people money and assuming significant risk at the same time. An NBA-sanctioned tournament would cancel out the first part, but there will always be risk of injuries from playing in the summer. As Sports Illustrated's Lee Jenkins put it:
If NBA teams ban players from international contests, then the unregulated summer events will also have to go, and so will a part of the league's streetwiseappeal. George won't be swinging by the Drew League, as he did last month, dropping 33 and throwing down a 360 jam.
Even if all that was banned, guys would still play pickup, which is a huge part of the argument for players continuing to participate. "This is an extremely unfortunate injury that occurred on a highly visible stage," Pacers president Larry Bird said in a statement about George, "but could also have occurred anytime, anywhere."
Cuban does have a point, though -- if NBA players are going to play in high-profile competitions, why not try to profit on that? It's at least worth looking into the possibility of a league-organized World Cup of Basketball.
According to Stein, there are other owners privately on the same page as Cuban, but they just haven't made that position public. It'll be interesting to see if that changes after this incident.
The Cavaliers are ready to reset everything if they have to. Their interest in Lou Williams...

It sounds like the Cavaliers are going to be active before the NBA trade deadline on Feb....

We've got all the scores, highlights and news for Friday night
George Hill, who is unhappy in Sacramento, could be a solution to Cleveland's backcourt si...

Shaquille O'Neal and Sir Charles cruise to an easy victory over some hot peppers

If Charlotte indeed moves its star guard, there's going to be more people impacted than just...