Mark Cuban says $200K loss on Facebook stock was 'gambling money'
Dallas Mavericks owner Mark Cuban says he lost $200,000 on Facebook stock since its initial public offering.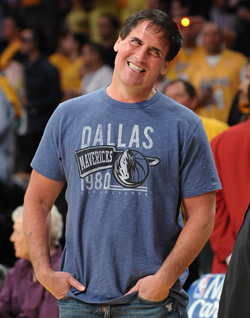 Mark Cuban probably wasn't smiling when Facebook went in the tank.
(Getty Images)
Dallas Mavericks owner Mark Cuban has taken a beating on and off the court this year.
After failing to re-sign Tyson Chandler, a key member of the 2011 NBA champion Mavericks, and making a disastrous trade for reality television star Lamar Odom, Cuban watched his 2011-12 season go belly-up, as the Oklahoma City Thunder swept Dallas out of the first round of the Western Conference playoffs. 
Cuban chased that loss with another, taking a six-figure stock market bath after investing five million dollars into social networking site Facebook.
The Daily Mail reports that Cuban has lost more than $200,000 in the weeks since Facebook's initial public offering on May 18, as the stock went into the tank almost immediately. But if you think he's upset about it, you don't know Cuban.
'My thesis was wrong,' Cuban said in a CNBC interview. 'I thought we'd get a quick bounce just with some excitement about the stock. I was wrong, and when you're wrong you don't wait, you just get out. I took a beating and left.'

"It was gambling money, to be honest with you," he said on Monday. "Any time you try to time the market, you get what you deserve. Sometimes you're right. Sometimes you're wrong. This time I was wrong."
Cuban, 53, is worth $2.3 billion, so this really is chump change for him. By comparison, the minimum salary for a player with no NBA experience was $473,604, more than double Cuban's Facebook losses. For another point of reference: Cuban reportedly spent $110,000 just to celebrate his 2011 title at Club Liv in Miami's Fontainebleau hotel.
Noah was reinstated from his 20-game suspension on Monday, but is yet to play for the Knic...

In his first season with the Cavs, Rose has not played since Nov. 7

Keep it right here for all your Friday NBA scores, updates and highlights
Russell has not played since injuring his knee against the Jazz on Nov. 11

Isaiah Thomas loves revenge games and he wants one against the Celtics in the playoffs

SportsLine's advanced computer model simulated Pelicans-Nuggets 10,000 times, with surprising...