Mark Cuban says Dallas is officially open for trade business
Mark Cuban says Dallas is open for trade business.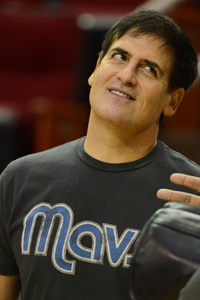 Cuban ready to trade.
(Getty Images)
This Mavericks season has been a disaster. After a strong start, the year has fallen apart and getting Dirk Nowitzki back hasn't been enough to make everyone better. The roster is flawed, the roster is damaged, the roster needs changing, and they need to get back to contention before Dirk makes his way to the sunset. 
What's that mean?
RELEASE THE TRADE TALK DOGS OF WAR! 
From ESPN Dallas: 
"Were letting everybody know that the "Bank of Cuban" is open," Cuban said Monday night, a couple of days after declaring that there was a "100 percent chance" the Mavs would aggressively pursue trade opportunities before the Feb. 21 deadline

"If its the right deal, we dont mind taking back money. But were not going to do a trade just to do a trade. Its got to be worthwhile."
via Dallas Mavericks owner Mark Cuban says Bank of Cuban is open - ESPN Dallas.
That "Bank of Cuban" is literally the best thing they have going for them, as in, if they're willing to take on money, they can get some talent. They want to upgrade point guard, as Rick Carlisle has pretty much destroyed Darren Collison's confidence, so Jose Calderon and his $10 million expiring is an option, if they want to take on Andrea Bargnani's money. 
They have rookies like Jae Crowder. They can take on Rudy Gay's contract. They can deal Elton Brand to a contender who needs a veteran big. They have their draft picks, they have O.J. Mayo to dangle as the big move for a massive overhaul, and all of their players are on short-term contracts. 
Need a veteran wing defender? Shawn Marion, lockdown guy for a championship team is on clearance! 
Need a wing scorer with some experience? Vince Carter, come on down! 
You can't beat prices like this! Dallas will take your used or slightly used massive contracts and get you great return! 
We were waiting for Cuban to hit the point where it was time to get aggressive. Now we get to see just how frustrated he's been and what kind of a rabbit he can pull out of a hat with this kind of roster, which looks good on the surface, but has so many holes. 
Warriors' forward doesn't understand the reasoning behind the all-too-common double technical...

Hardaway Jr. gave a 'safe' call like he was an umpire in baseball

Barnes hits the trey with less than a second left to lift Mavericks to dramatic 95-94 vict...
Kevin Durant was once again back in Oklahoma City

Gregg Popovich has never seen an injury lead to the issues that Kawhi Leonard has been fac...

Kobe Bryant, of course, had his 81-point game against Rose and the Raptors back in 2006