Mark Cuban's honest rant goes awry at the worst time for NBA
Mark Cuban's controversial comments may have had merit, but they also came at a terrible time for the NBA.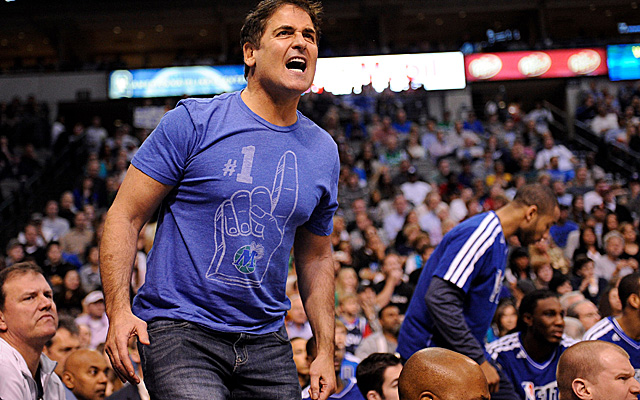 More Offseason Analysis: Coaching changes, news | Free Agency | Draft
At a time when the NBA is still reeling from the Donald Sterling scandal, Mark Cuban decided to make some comments about race, prejudice and bigotry.
My first thought upon hearing that Cuban, the league's most outspoken owner, had jumped into the deep end of the pool and started splashing around? This probably will not end well.
On one hand, the timing is not ideal for an NBA owner to make controversial public statements on race -- especially when that owner will have a vote June 3 as to whether Sterling's ownership of the Clippers should be terminated over racially derogatory comments and beliefs. First, almost all comments about race are controversial to somebody. Second, Sterling's racist ideas and statements -- on an audio recording released by TMZ and in a subsequent interview on CNN -- have made race the third rail of the NBA.
A prudent approach when confronted by a live wire would be to not touch it, or at least let it cool down first.
This has never been Cuban's style, with one notable exception that comes to mind. When Jason Collins signed with the Brooklyn Nets, becoming the first openly gay player in NBA history, Cuban had nothing to say -- no thoughts at all.
"I don't give a [expletive] about a guy's sexuality," said Cuban, owner of the Dallas Mavericks. "Period, end of story."
Fair enough. But now, with issues of race and a fellow owner's perverse beliefs at the forefront of what could be an ugly fight to remove him from the league, Cuban had plenty to say. If you read all the comments and watch the video, most of what Cuban said is thoughtful and constructive to the national dialogue -- not to mention refreshingly honest.
As usual, Cuban addressed some uncomfortable realities that few other public figures would be willing to touch. He did so reasonably, which has not always been the case with him.
He made you think.
But then you get to the part where Cuban admits to engaging in racial profiling, and you can hear the fists slamming on desks at the league office from here.
During the course of a lengthy interview with Inc. Magazine about stereotypes, prejudice and bigotry, Cuban said the following:
"If I see a black kid in a hoodie and it's late at night, I'm walking to the other side of the street. And if on that side of the street, there's a guy that has tattoos all over his face -- white guy, bald head, tattoos everywhere -- I'm walking back to the other side of the street. And the list goes on of stereotypes that we all live up to and are fearful of."
A slightly different version of the same quote is circulating from Cuban's comments during Inc.'s GrowCo conference in Nashville, Tenn. The essential content of Cuban's answer was the same in both cases.
Where to begin?
Aside from the fact that it's not the best time for an NBA owner to publicly admit to the human flaw of racial profiling, Cuban's description of a "black kid in a hoodie" evoked all the requisite emotion that went along with the Trayvon Martin homicide case -- a fault line for race issues in America in 2012 and '13. George Zimmerman, a neighborhood watch volunteer in Sanford, Fla., was acquitted last July of second-degree murder in the shooting of Martin, an unarmed black teenager, in an incident that brought the issue of racial profiling to the forefront of the national dialogue. Even the president weighed in.
The fact that Cuban attested to being more afraid of, say, someone like Chris "Birdman" Andersen than a black kid in a hoodie did little to excuse his ineloquent choice of words.
"In hindsight, I should have used different examples," Cuban tweeted Thursday afternoon, after hours of public criticism of his comments. "I didn't consider the Trayvon Martin family, and I apologize to them for that.
"Beyond apologizing to the Martin family, I stand by the words and substance of the interview."
In Cuban's example, he tried to illustrate that we all have biases and opinions of people based on how they look. This is indisputably true, but he could've said it better -- and should've said it differently.
But to equate Cuban's hypothetical example of how he might behave when confronted with someone whose appearance, for whatever reason, makes him uncomfortable, with Sterling's blatantly racist views about blacks and minorities quite simply does not compute. There is no line from here to there -- no comparing the poorly worded with the blatantly offensive.
The rest of what Cuban said was perfectly reasonable, and perhaps inconveniently relevant as the NBA prepares for an historic vote to remove one of its owners for the kind of prejudice that Cuban ascribes to almost everyone.
"In my businesses, I try not to be hypocritical," he said. "I know that I'm not perfect. I know that I live in a glass house and it's not appropriate for me to throw stones. And so when I run into bigotry in organizations I control, I try to find solutions. I'll work with people. I'll send them to training, I'll send them to sensitivity training. I'll try to give them a chance to improve themselves. ... While we all have our prejudices and bigotries, we have to learn that it's an issue that we have to control.
"It's part of my responsibility as an entrepreneur to try to solve it, not just to kick the problem down the road," Cuban said. "Because it does my company no good, it does my customers no good, it does society no good if my response to somebody in their racism or bigotry is to say, 'It's not right for you to be here, go take your attitude somewhere else.' "
Is Cuban saying that he and the other owners would be hypocritical to remove Sterling for personal views that none of them can say are held perfectly and purely in their own hearts? That's exactly what he's saying, and it's a side of the issue that only Cuban has been willing to confront.
"The thing that scares me about this whole thing is: I don't want to be a hypocrite," Cuban said in a question-and-answer portion of the conference. "And I might have to be."
As for commissioner Adam Silver banning Sterling for life, Cuban said, "Adam had to do it. There's a lot at stake for the NBA. ... But it's a slippery slope."
For his part, Silver addressed this very aspect of Sterling's removal this week at the NBA draft lottery, his first public appearance since banning Sterling on April 29.
"For those who say it's a slippery slope, and my God, what happens to the next player or the next owner who does something wrong, I only say there's something particular about race issues when it comes to sports and maybe to the NBA in particular," Silver said. "I mean it's no secret, we have a league where the majority of the players are African-American and the majority of the owners are not."
In other words, there's a fine line between productive dialogue on race and opinions that might be hurtful and offensive, no matter how honest they are. We should all find that line and try not to cross it, whether we own an NBA team or not.
With 2K18 out everybody wants to know who has the 10 highest ratings in the game. Here's the...

Durant noted in an interview that all of the criticism in the immediate aftermath hit him...

Want the swagger of LaVar Ball? "NBA 2K18" lets you copy his absurd run from his WWE appea...
Durant apologized for a few tweets in which he criticized OKC and his former coach Billy D...

Lue does not expect the Cavs' big trade to affect the team's starting frontcourt ... at least...

Dwight Howard wants to be a farmer in his future and retire with his donkeys