Mark Cuban's pretty happy he avoided being where the Nets are
Mavericks owner feeling pretty good about himself after not throwing big money out in a restrictive CBA.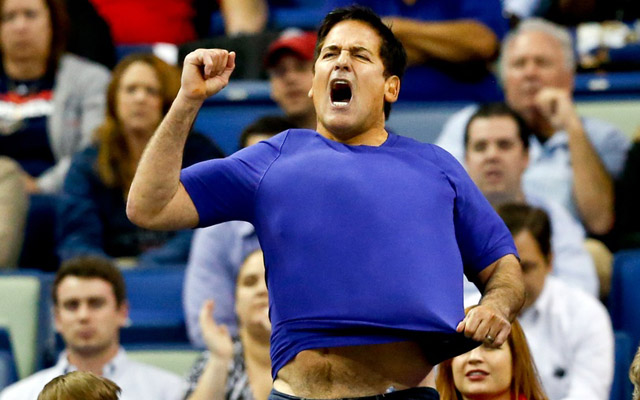 In 2011 after the Mavericks won the title (and the lockout was resolved), Dallas owner Mark Cuban took a world of heat. He opted not to re-sign Tyson Chandler, as the defensive stalwart walked to New York. He didn't compete to bring back Jason Kidd, and the now-Nets-well-at-least-for-another-week-coach went to New York for his final season. The next year he let Jason Terry walk. 
He cleared cap space to make a run at Deron Williams, but when the time came for a free agency meeting, Cuban blew it off. For two years, Cuban has said that the new CBA means you can't spend like you used to, and that he made the right decison not only in allowing the 2011 title team to decompose, but in signing moderate-level deals instead of committing big money for moderate second-option free agents. 
Now the Nets are a nightmare wrapped in poo, and the Mavericks are sitting pretty behind a flexibile core of discount players. And Cuban is G-L-O-A-T-I-N-G:
The Dallas Mavericks' owner was asked about the mess that the Brooklyn Nets have created, and was basking in the glory of the moment. Cuban knows the Nets have the highest payroll in the NBA at $102.2 million, and knows that Nets owner Mikhail Prokhorov is in a position were Mavs' fans wanted Cuban to be in two years ago.

...

"It's not just you're stuck for a week or you're stuck for half a season, you're stuck,'' Cuban said. "Now the rules have gotten worst you're even more stuck. 

"If you look across the board a lot of guys would have been our guys and they've been hurt a lot. One's a coach now (in Kidd) and two of our key players (Chandler and Terry) would have been hurt. You never know, but that was definitely a fear.''
via Full-Court Press: Nets' mess is Exhibit A for the Mavs.
OK, Cubes, I was with you till that last part. There's absolutely no way to factor what a different climate, training staff, series of games, minutes load, coaching staff and general fractious nature of life would have resulted in as far as the injuries to those players. Claim victory because the Nets have no bailout option on a design that has failed. Claim victory because the smart money management you've employed has built a good playoff team without long-term restrictions. 
But don't go throwing out chaos theory in its totalilty. There's an alternate reality where you signed all those guys and won two more titles. (There's also one where you re-signed them and missed the playoffs two years in a row.)
The bigger point is that Cuban is right that he's negotiated the CBA terrain in a smarter way than some of the other big spenders. But if he wants to win title, he's going to have to find a formula he can feel comfortable getting stuck in. And that's the part no one has really figured out how to do under the new CBA yet. 
Trump rescinded Curry's invitation to the White House after Curry said he wasn't interested...

Silver said he was hoping Warriors would get chance to share their views directly with the...

Along with the Thunder, those were the three teams most involved in the Anthony trade talk...
LeBron said he was frustrated by the President's recent actions

A look at the various actors and elements in the latest sensational blockbuster trade in the...

Blockbuster deal doesn't change the Thunder's projected finish in the West