Martell Webster open to re-signing in Washington
Martell Webster willing to re-sign with the Wizards.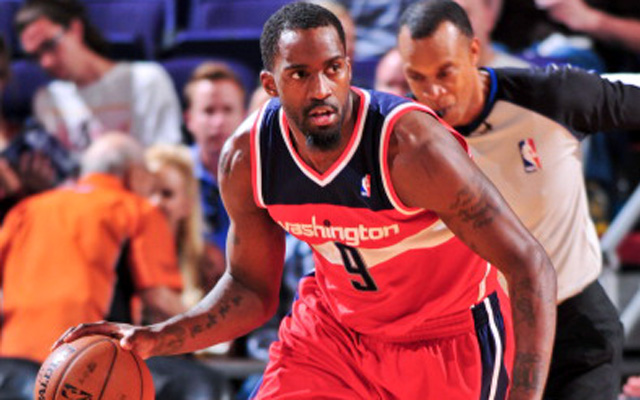 Wizards wingman Martell Webster, who has quietly had a very good season, is open to re-signing in Washington this summer, CSN Bay Area reports, and the Wizards are equally interested in bringing him back: 
Answer, in short: Count me in.

Answer, in long: "It's a great fit for me. I enjoy the atmosphere here: coaching staff, training staff and most important, my teammates. And it's competitive. And very family-oriented. When you have that as an option, it's hard to defer away from that."
Webster is shooting 49.6 percent from the corner 3 this season, and he has been their most reliable player to stretch the floor. The Wizards don't have a ton of flexibility, with John Wall needing an extension after a great few months of play since returning from injury and three big veteran contracts on the books (Trevor Ariza, Emeka Okafor, Nene). If Ariza or Okafor were to opt out, there might be more room, but given the money on the table, it's not looking like that's likely. 
Still, Webster could easily fit back into what's left of Washington's space on a bargain deal. It's a good fit. It's just a matter of whether the Wizards will really have enough room to make any significant upgrades or if they just have to give it a go with this team and hope that improved health and a better Bradley Beal is enough to get them in the playoffs. 
The Rockets are gunning for their 10th consecutive win

Victor Oladipo just wants to live his life and enjoy his breakout season with his new team

Keep it right here for all of the news, notes, scores, and highlights from around the Asso...
LeBron has a player option for next season, and is expected to opt out and become a free a...

The Pistons will be looking to snap a five-game losing streak when they host the Celtics on...

Bryant offers some advice for Ball and other rookies about having a sense of urgency in the...