Marv Albert told Steve Kerr 'it never ends well' with Knicks
Marv Albert said he didn't talk Steve Kerr out of the Knicks job, but he did tell him what it's like to work for James Dolan.
• 1 min read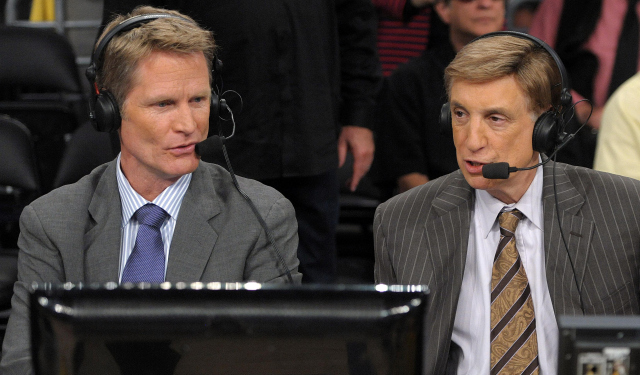 TNT color commentator Marv Albert is not a huge fan of New York Knicks owner James Dolan. In 2004, Dolan fired Albert as the voice of the Knicks. When Steve Kerr spurned New York to sign a five-year contract to coach the Golden State Warriors, there were rumors that Albert played a part. In an interview with the New York Daily News' Bob Raissman, Albert denied that he talked Kerr out of it, but said that he did tell his broadcast partner what it was like to work for Dolan.
"Well, I told him it never ends well there. Just look at recent history. It's because of one man (Dolan)," Albert told me Thursday over the telephone. "There is no happiness there. I say this with all kinds of friends I have there and (the ones) at the MSG Network. Everybody hates being there. For coaches it's very difficult. Steve couldn't accept anyone (from MSG's PR staff) following him around with a tape recorder. Like Phil [Jackson], Steve is a guy who wants to say what he wants to say," Albert continued. "He's very opinionated, which doesn't always work when you are at the Garden."
Wow. "No happiness there." Those are some strong words. It doesn't make sense to pin this all on Albert, though -- it would be silly to think that Kerr hadn't reached out to other people and found out all that there is to know about working for the Knicks. The somewhat surprising thing is that Albert shared this publicly, but of course he talked to his friend about the situation. There were many good reasons for Kerr to choose the Warriors, and conversations with Albert probably were not the deciding factor.
Giannis skipped EuroBasket last summer, and has missed four games this season with knee so...

Some of the best and worst from the league as we head into the home stretch of the season

Cuban acknowledged that tanking is 'brutal' and that he will no longer do that after this...
Cho has been the GM in Charlotte since 2011

Fergie: 'I'm a risk taker artistically, but clearly this rendition didn't strike the intended...

Victor Oladipo had a successful R&B album over the offseason and Jamie Foxx is a fan