Masai Ujiri: Dwane Casey will be retained as Raptors coach
Toronto Raptors president and GM Masai Ujiri announced that Dwane Casey will be retained as the coach of the team. Decisions are coming soon on an assistant staff.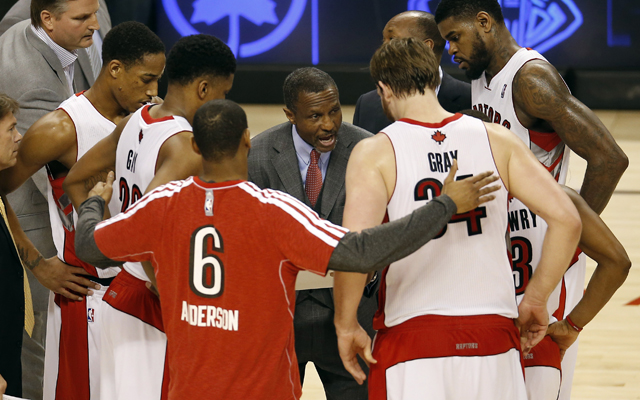 With the Toronto Raptors reassigning Bryan Colangelo to the business side of things and hiring 2013 Executive of the Year Masai Ujiri to reshape the franchise, there have been a lot of quick changes within the organization. Ujiri got rid of Ed Stefanski as the vice president of the basketball side of things and let go of head scout Maury Hanks as well. 
Many wondered if coach Dwane Casey and the assistant staff would be the next to go as Ujiri tries to put his own imprint on the team. The Raptors announced on Wednesday that Casey would, in fact, come back for the final year of his contract and coach the team this coming season. An announcement on the assistant coaches has yet to be made but will be in the future.
Toronto Raptors President and General Manager, Basketball Operations Masai Ujiri announced Wednesday that Head Coach Dwane Casey will return for the 2013-14 season.

"I'm excited about moving forward and growing this team with Coach Casey," said Ujiri.

Casey is in the final year of a contract extension signed following the 2011-12 campaign.

An announcement will be made in the future regarding the club's assistant coaching staff.
Casey has coached the team to record of 57-91 over his two seasons with the club. The Raptors were thought to be a potential sleeper for challenging for the final playoff spot in the East this past season, but injuries and poor defense plagued them for much of the year.
In his first season with the Raptors, Casey helped improve the team's defense from 30th in the NBA in 2010-11 to 12th in the league. The team gave up 8.5 fewer points per 100 possessions under the former defensive wizard on Rick Carlisle's coaching staff with the 2011 Dallas Mavericks that won the NBA title. However, last season we saw a regression in the Raptors' defense. Their defensive efficiency dropped 3.2 points per 100 possessions and they found themselves 22nd in the NBA.
Warriors' forward doesn't understand the reasoning behind the all-too-common double technical...

Hardaway Jr. gave a 'safe' call like he was an umpire in baseball

Barnes hits the trey with less than a second left to lift Mavericks to dramatic 95-94 vict...
Kevin Durant was once again back in Oklahoma City

Gregg Popovich has never seen an injury lead to the issues that Kawhi Leonard has been fac...

Kobe Bryant, of course, had his 81-point game against Rose and the Raptors back in 2006