Mason Plumlee: Duke, Nike had nothing to do with making Team USA
Nets big man Mason Plumlee responded rather professionally when asked about making Team USA because of Duke and Nike.
• 1 min read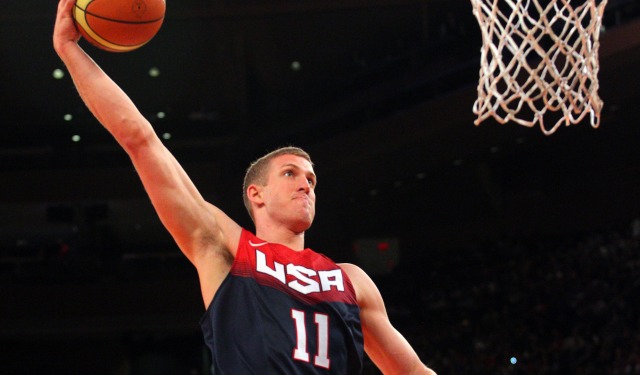 Mason Plumlee has heard the criticism. When the Brooklyn Nets big man was bumped up to Team USA from the select team, and again when he made the final roster, there were rumblings that it wasn't totally on merit. He'd just finished his rookie season, and he'd played a total of two minutes in the Nets' final three games of the season against the Miami Heat in the playoffs. Plumlee was not considered a star or a future star, and generally those are the kind of guys who represent America in international competition.
Plumlee played four years under Team USA head coach Mike Krzyzewski at Duke, and he's a Nike guy. These two facts were bound to be mentioned when discussing his surprising selection. After a 114-55 -- not a typo -- victory against Finland on Saturday, he addressed the matter.
"I'm very proud that I went to Duke and I'm very proud that I wear Nike, and that has nothing to do with it," Plumlee said, via Ball in Europe. "If you were at our practices and our training camp, anybody that was there, they would see why I made the team."
Plumlee said this with a smile on his face, handling the question pretty darn professionally:
You can't blame people for being confused by him being in Spain, but Plumlee wasn't really a bad choice by USA Basketball. Out of the players invited to the select team, he made the most sense to promote. That's not to say there weren't other NBAers who could have helped the team, but he impressed the coaching staff with his athleticism, quickness and willingness to defend and hit the glass hard.
Team USA doesn't need their centers to dominate offensively, so Plumlee fits in just fine as a role player. And let's be honest: even if he didn't make the team because of Duke, it obviously helps that he and Krzyzewski are familiar with each other and the coach can trust him.
With 2K18 out everybody wants to know who has the 10 highest ratings in the game. Here's the...

Durant noted in an interview that all of the criticism in the immediate aftermath hit him...

Want the swagger of LaVar Ball? "NBA 2K18" lets you copy his absurd run from his WWE appea...
Durant apologized for a few tweets in which he criticized OKC and his former coach Billy D...

Lue does not expect the Cavs' big trade to affect the team's starting frontcourt ... at least...

Dwight Howard wants to be a farmer in his future and retire with his donkeys