Matt Barnes defends use of racial slur in context of today's society
Clippers forward says that people have to "get used to" the use of the term and that it is commonly used in locker rooms and on the court.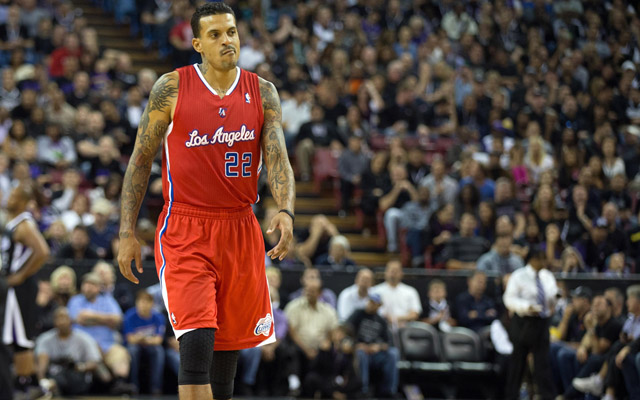 Clippers forward Matt Barnes defended his use of a a racial slur Saturday, days after the forward apologized and was fined for the use of it in a tweet. 
"The word I used is a word that's used on the court, used in the locker room, used amongst my friends and family; it's a regular word to me," Barnes said. "I think my mistake was using it in a social manner, which I regret and I apologize for it. But you guys have to get used to it."

"If you look at the particular way I said it, kids are seeing that through music, through their favorite artists, and probably some of their favorite movies and even on TV now," Barnes said Friday. "The word is not necessarily a racial slur. Everyone is trying to paint it like I made some kind of hate crime or something. It's a word that I guarantee you will be used out here on the court today. It's a word that I've already heard in the locker room. It's not as big a deal as people are trying to make it.

"My mistake was making it in a social manner in the platform I used it on."

"This is a new day and age, and for my generation, that's a very common word," Barnes said. "You hear it on the radio, you hear it in movies, you hear it on TV. It is what it is. It was never intended for any person on the team."

"I think the way it's said makes people cringe," Barnes said. "I think if you put an -'er' at the end, that makes people cringe, but if there's an - 'a' at the end, that's like people saying 'bro.' That's just how we address people now. That's how we address our friends. That's how we talk. That's how my wife talks. That's how my family talks. People talk that way now. I think if you put the -er on it, it's offensive, and if you have an -a on it, it's more slang."
via Matt Barnes of Los Angeles Clippers on racial slur -- 'Get used to it' - ESPN Los Angeles.
Earlier this week, Charles Barkley defended Barnes' use of it and said he shouldn't have to apologize for it. Video via SI.com:
Clippers coach Doc Rivers said earlier this week he doesn't approve of the use of the term. 
"I think he's very emotional and down that he got thrown out," he said. "I get that part, but the choice of words, obviously thats not a word I'm a fan of in all venues."
via Los Angeles Clippers Matt Barnes apologizes for push, ejection, tweet - ESPN Los Angeles.
Dan Fegan was once considered as one of the most influential agents in the NBA

Ersan Ilyasova isn't quite the player he used to be, but maybe the 76ers can bring the best...

LeBron James speaks his mind and that's part of what makes him a superhero to Gregg Popovi...
We've got all the scores, top plays and news from Sunday's NBA games

Stephen Oh has his finger on the pulse of Wizards basketball and released a play for Sunda...

The Warriors don't have any interest in winning a popularity contest. They're fine winning...