Matt Barnes is definitely looking for a pay increase
The Clippers' Matt Barnes wants the big payday after years of being a veteran contributor.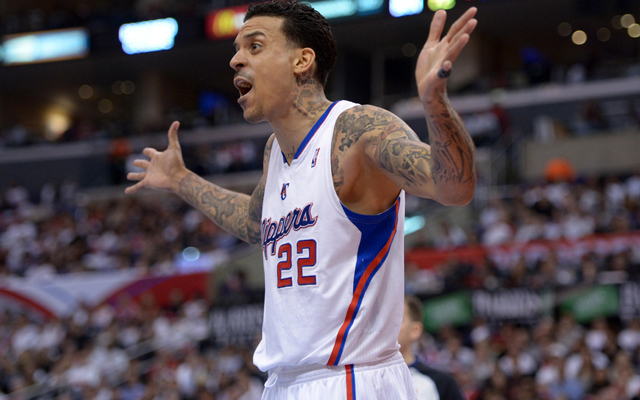 Matt Barnes was a huge part of the Clippers' success this season. He was a capable defender and a solid 3-point shooter. He attacked off the dribble and helped give the Clippers some of their attitude. Barnes is a free agent this summer and, while he wants to return to the Clippers, he has also bounced around on smaller deals for several seasons. He wants the payday.
"I'm going to sit down and talk to my family and see where the market's at," Barnes said. "I've been one of those guys the last three or four years that's always been a great bargain. I've played for the mid-level and have played well but have yet to see a pay day. Not to say that I'm asking for the world, but I'm definitely looking for a salary increase."

Barnes, who scored 30 points and grabbed 10 rebounds in Game 6 of the Clippers first-round series against the Memphis Grizzlies, said he was open to going elsewhere but his preference would be to stay in Los Angeles.

"I had a great season with the Clippers and my family is very comfortable here in L.A.," Barnes said. "So the Clippers are going to be one of my top choices, but we're looking for a pay increase."
via Barnes believes Chris Paul will re-sign, hopes he can too -- Los Angeles Clippers Blog -- ESPN Los Angeles.
This is pretty much what you'd expect. In eight seasons, Barnes has only cleared a little over $11 million. That's a spectacularly low rate for a guy who has played almost 1,400 minutes. 
It's a smart move for Barnes to go test free agency. There are a lot of teams with a lot of cap room that don't have great free agency pull power, which could lead to someone paying above price for him. It's a weak free agency market to begin with, and Barnes could wind up pulling a "veteran-player-who-knows-how-to-win" deal. But if he wants to keep winning, the Clippers are his best bet. 
We'll see where Barnes winds up in two months. 
Thomas is rehabbing from a hip injury that cut short his 2016-17 playoff run with the Celt...

James wondered whether he did something to drive Irving away

Beal went on a tangent at Washington's media day about Trump's recent comments
The Cleveland Cavaliers also have 6-1 odds of landing the former Bulls and Heat star

OKC fans welcomed the 10-time All-Star at the airport with chants of 'Melo!'

Jordan joined LeBron James to show support of those who wish to exercise their freedom of...