Mavericks claim Elton Brand after 76ers amnesty
The Dallas Mavericks have reportedly claimed power forward Elton Brand after he was released by the Philadelphia 76ers using the amnesty clause.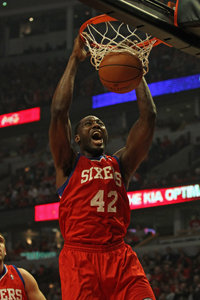 Elton Brand is headed to the Dallas Mavericks.
(Getty Images)
It's a new start for both player and team.
The Dallas Mavericks have claimed power forward Elton Brand after he was waived using the amnesty clause by the Philadelphia 76ers, according to Yahoo Sports.
Brand is entering the final season of his contract and is set to make $18.2 million. ESPN.com reports that Dallas' bid was $2.1 million, meaning the Mavericks will assume that portion, and the 76ers will pay the rest.
Ken Berger of CBSSports.com has confirmed Dallas' winning $2.1 million claim.
"We talked to a lot of teams, and Dallas was by far where he wanted to go," Brand's agent, David Falk, told CBSSports.com.
Later Friday, the Mavericks announced the claim of Brand in a press release.
Brand, 33, averaged 11.0 points and 7.2 rebounds per game for the 76ers last season. 
Dallas, the 2011 NBA champions, is a team in transition after the departure of Jason Kidd in free agency this summer, the sign-and-trade of center Tyson Chandler in December 2011 and an unsuccessful bid to land Brooklyn Nets All-Star point guard Deron Williams in free agency.
Earlier this week, Dallas used its amnesty clause to release center Brendan Haywood and sign-and-traded big man Ian Mahinmi to the Indiana Pacers in exchange for guards Darren Collison and Dahntay Jones. The Mavericks also agreed to sign unrestricted free agent center Chris Kaman.
Instead of keeping Brand on the books, Philadelphia opted to re-sign center Spencer Hawes, sign unrestricted free agent guard Nick Young and agreed to sign unrestricted free agent center Kwame Brown.
Eric Bledsoe will not be playing against the Kings. Could there be more to come?

J.R. Smith back in the starting lineup after Dwyane Wade's early struggles to start the se...

Travis Schlenk, a former Warriors exec, told CBS Sports' Bill Reiter that Golden State tanked...
The ex-Warriors assistant GM shares his philosophy on scouting and why Golden State had so...

The Suns have been doomed for awhile now it just finally came to a head this season

Andre Drummond is making his free throws now, and Pistons coach Stan Van Gundy says this is...