Mavericks coach Rick Carlisle fined $25,000 for comments on officiating
Dallas Mavericks coach Rick Carlisle breaks news of Rick Carlisle being fined for comments about officiating made by Rick Carlisle.
Update 3:58 p.m. ET: The NBA announced the fine for $25,000, standard for public criticism of the officials.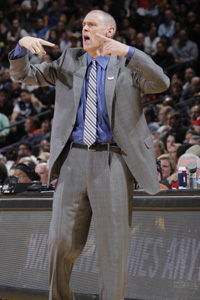 Carlisle
(Getty Images)
Dallas Mavericks coach Rick Carlisle beat the NBA to announcing a fine on himself. On Saturday, Carlisle told reporters he had been fined by the league, declining to state the amount, for comments he made concerning the officials following the Mavericks' loss to the Warriors on Thursday night. From ESPN Dallas:
Dallas Mavericks coach Rick Carlisle said he has been fined by the NBA office for his comments criticizing the officiating following Thursdays loss to the Golden State Warriors. Carlisle declined to reveal the amount of his fine, saying it would be announced by the league later Saturday.

"I spoke to the NBA office and agreed that I should be fined for my comments following the Golden State game," Carlisle said in a text message. "In this league we all have challenging jobs, and the job of the officials is one of the toughest. Those postgame remarks about the officiating were not appropriate, and I accept the fine."
The comments concerned a block by Andrew Bogut on Brandan Wright's attempted game-tying layup late in Thursday's loss and came just after the NBA admitted a blown charge call against O.J. Mayo in the Mavericks' collapse at Portland on Tuesday. Here's what Carlisle said Thursday to get himself in hot water.
"We put ourselves in position," Carlisle said. "I don't know what you want to call it at the end. Unlucky? Whatever you want to call it. Screwed? It happened."

"I'm disappointed and I'm very concerned," Carlisle said Thursday. "Concerned about what's happening at the end of games with the officials. I can only be honest."

Moments later, Carlisle added: "I've never been one to make it about the officials. So I don't want to wallow in this too much. But it's a fact that two nights in a row, miscalls have really hurt us, and I'm disappointed by it."
Carlisle and Mavericks owner Mark Cuban were fined $110,000 this time last year following similar incidents, in which Carlisle kicked a ball into the stands. Cuban, always a vocal critic of the officiating, has been particularly active this season.
It should be noted that several NBA analysts, including myself, have noted an increasing number of mistakes and inconsistencies within games this season, relative even to seasons past. Carlisle is clearly frustrated with his team, though, which continues to struggle to pull itself out of the mire even with the Lakers and other teams stalling out and opening the door for their return to the playoff picture.
DH12 is picked for free throws after a teammate gets ejected. He makes both, and lets Scott...

Bell was injured defending a Robin Lopez dunk and had to be taken off the floor in a wheel...

Trevor Ariza and Gerald Green are reportedly both suspended two games
We've got all the scores, highlights and news from Wednesday night

Jonah Keri talks with NFL and NBA broadcaster Ian Eagle

SportsLine simulated Wednesday's Nuggets-Clippers game 10,000 times