Mavericks forward Shawn Marion out with a sprained MCL
The Dallas Mavericks announced on Tuesday that forward Shawn Marion has a sprained MCL and will not travel with the team this week.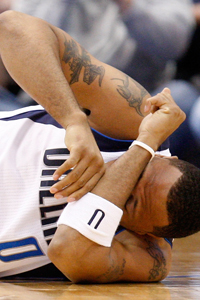 Shawn Marion's MCL sprain will keep him out for a bit.
(Getty Images)
The Dallas Mavericks issued a press release informing us that Shawn Marion's medial collateral ligament is officially sprained.
The Dallas Mavericks announced today that an MRI confirmed forward Shawn Marion has a sprained left medial collateral ligament (MCL).  He will be listed as out tomorrow and will not travel with the team to New York and Charlotte later this week.  He will be re-evaluated next week.
The Mavericks are starting to really test their depth. Chris Kaman started the season with a calf injury, prompting the Mavericks to briefly buy into an Eddy Curry comeback campaign. Kaman is back but is still trying to get his conditioning back up and his calf to completely heal.
Dallas was already without Dirk Nowitzki, who underwent knee surgery in the preseason. He's still expected to miss roughly the first month of the season. Now with the Marion injury, the Mavericks will have to try to dig into their depth and survive without another starter.
As crazy as this might be to say, it could be equally as hard to replace Marion as it has been to replace Nowitzki. It might even be harder. The Mavericks' pickup of Elton Brand in the offseason and the early contributions of Brandan Wright have eased the pain of not having Nowitzki.
With Marion down, the Mavs will have to find a way to replace the intangibles, defense and rebounding that he provides on a nightly basis. Rookie forward Jae Crowder and veteran swingman Vince Carter are the most likely candidates for filling in for Marion. Crowder has started the season on a shooting tear, making 46.7 percent of his 3-point shots. 
He'll need to provide some killer defense in order to fill in for Marion.
Nerlens Noel is now being represented by Rich Paul of Klutch Sports

Steve Kerr opens up about his back issues and more

OJ Mayo, banned from the NBA for positive drug test, is considering playing overseas
The King? 'LeBron, it turns out, is Aquaman,' or so the account via Dwyane Wade's wife goe...

From Penny to Thunder Dan to Pistol Pete to Agent Zero, guys who would be better in 2017

Griffin said recently he thinks it's more likely that LeBron James goes to New York than L...