Mavericks owner Mark Cuban is helping fund an HGH study
Dallas Mavericks owner Mark Cuban is helping fund a Human Growth Hormone study about helping athletes with injury recovery.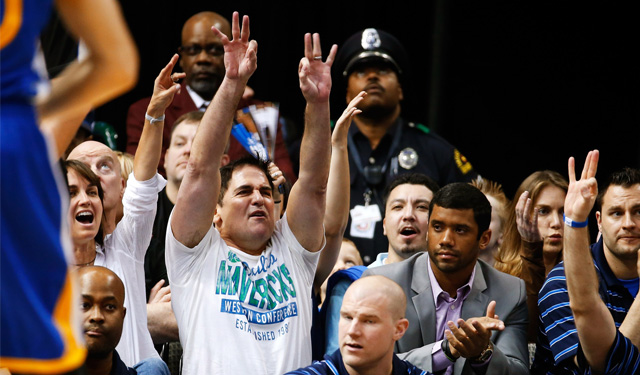 More NBA: Power Rankings | Expert Picks | Latest news & notes
Back in October at the NBA's Board of Governors meeting, Dallas Mavericks owner Mark Cuban broached the topic of whether or not human growth hormone should be included on the NBA's list of banned substances. With advancements in medical technology and injury recovery methods, coupled with the rash of high profile injuries in the NBA possibly diluting the overall product significantly, it's a topic worth exploring for a league looking to protect the product on the court.
Cuban told reporters before Thursday night's game against the Los Angeles Clippers that he had made a significant contribution financially to fund a potential university study on the possible benefits of using HGH in the recovery process with certain injuries. From ESPN Dallas:
Dallas Mavericks owner Mark Cuban is putting his money where his mouth on studying the potential benefits of human growth hormone use for athletes recovering from injuries.

Cuban said Thursday he has made a significant financial commitment to fund a potential university study on the issue.

"It'll be a two-year study that applies HGH to injuries preoperative to postoperative injury recovery," Cuban said before the Mavs-Los Angeles Clippers game at Staples Center.

"So if you're able to retain more muscle going into an operation because you're working out and HGH helps your muscle. And you're able to regain it faster, then we cut the recovery time.

"And it'll be geared around one type of injury that has hundreds of thousands of examples a year. So we'll be able to do a placebo environment without hurting anybody, right? So here's the way we do it now. And here's how we do it with HGH. So hopefully it will accelerate recovery.
HGH has been a term used with quite a negative stigma for a long time in sports, primarily due to the NFL and Major League Baseball. It's a banned substance because it essentially has the potential to enhance the body and performance of a player in a similar way to steroids, which are also banned. By allowing HGH into the injury recovery process, it would be a big breakthrough in the medical field for professional sports while possibly also opening up a big can of regulated worms. 
Clearly, there would have to be more than just this study to prove to pro sports leagues that HGH is an acceptable form of rehab when it comes to injuries, but it could open the door and at least start the conversation from turning such a taboo substance in pro sports into something much more widely accepted. 
The investigation detailed a corrosive workplace environment

Also, when -- or rather, will -- the Warriors flip the switch?

The versatile forward has one glaring weakness, but Toronto can see it turning into a stre...
The investigation detailed a hostile workplace environment

Cousins suffered a torn Achilles tendon on Jan. 26, and will miss the rest of the season

Ingram has become one of the team's go-to players with Lonzo Ball sidelined with an injury