Mavericks owner Mark Cuban questions 'chemistry' of new-look Lakers
Dallas Mavericks owner Mark Cuban questions whether the new-look Los Angeles Lakers will have the chemistry needed to win the 2013 NBA Finals.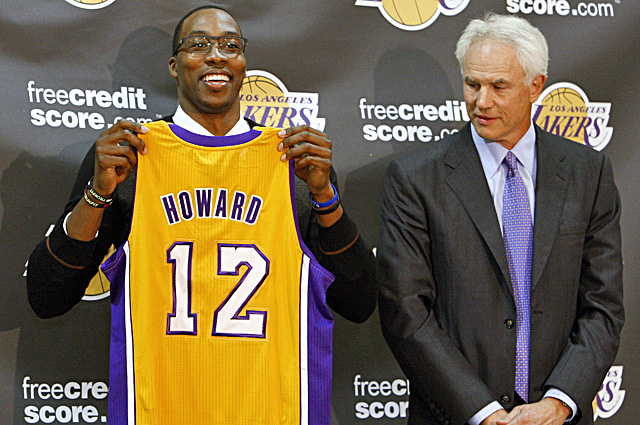 Dwight Howard is the chemistry concern for the Los Angeles Lakers.
(Getty Images)
The team that makes the biggest moves winds up with the biggest target on its back. There's no escaping that reality in the NBA these days and the arrow-slingers aren't always media members.
Take Dallas Mavericks owner Mark Cuban, who is happy to up the pressure on the new-look Los Angeles Lakers.
SportingNews.com reports that Cuban recently questioned whether the Lakers, who added All-Star point guard Steve Nash and All-Star center Dwight Howard this summer, will have the necessary chemistry to achieve their potential next season.
"The Lakers have done this before," Cuban said. "Remember Gary Payton, Karl Malone and Kobe and Shaq were all together, and it didn't work.

"It takes great chemistry, like coach (Rick Carlisle) alluded to, it takes guys wanting to be there — I don't know if all their guys want to be there — it's going to be interesting."

"Look, (the Lakers are) going to be a great team, but I remember when we made our run," Cuban said. "We weren't supposed to win any series. The Lakers were defending champs when we swept them, and they had everybody back. A lot of teams do a great job winning the summer, but I never get so antsy about what happens over the summer."
Cuban's general premise is one shared by many observers. Something has to give any time this many egos and scorers are brought together in a sport with five players and one basketball. Some of the personalities involved, particularly the unyielding Kobe Bryant and the fritzy Dwight Howard, are fair game for preseason questions. This is a new dynamic and the answers won't be known until the games are played.
To recap: the 2003-04 team went 56-26 and made fairly easy work of the Western Conference before losing to the Detroit Pistons in five games in the Finals. Not an abject failure on paper but, given the assembled starpower and sky-high expectations, it was a total bust in practice.
This year's team shares that group's expectations. Otherwise, there are probably more similarities than differences. For starters, Karl Malone was 40 years old and missed two months of the season with a knee injury. Gary Payton was 35 years old and in his only season with the Lakers, one of five stops for The Glove between 2002 and 2005. And, of course, the major one: Kobe Bryant and Shaquille O'Neal were on totally different pages, a rift resulting in O'Neal being traded to the Miami Heat that summer.
Add that up and you have a very talented team that ultimately didn't have that much invested in each other. Malone and O'Neal were aging tag-a-longs, Bryant and O'Neal were both teammates and combatants, and the group dealt with injury issues, to boot. Good chemistry certainly could have saved this group, given the talent assembled, but the personalities involved didn't leave much margin for error.
This year's Lakers group has an advantage in that regard. Bryant is still as hyper-competitive and hard on teammates as he was in 2004 but he's also much more mature and focused on adding to his legacy. He's playing with a veteran's wisdom that his career's finish line is in sight rather than with the precociousness of a budding superstar looking to assert control over a franchise. 
The 2012 Lakers also have two selfless personalities among their assemblage of stars: Steve Nash and Pau Gasol. Nash proved time and again that he was a team-first guy in Phoenix, where he refused to abandon the Suns by asking or forcing his way out in recent years, despite their struggles. Gasol, meanwhile, is one of the NBA's best passing big men and is capable of creating opportunities for himself by pounding the glass. He's never seemed particularly concerned with his numbers and he generally plays hard on both ends, even if he's been criticized for stints of passivity in recent years. Those two will make plays for others and be fully comfortable with fewer touches. It goes without saying.
There's another key element that Bryant, Nash and Gasol share: buy-in. All three are under contract through 2013-14, with Nash's deal running one season longer. That fact removes the pressure that would come with a "one final run" season, the likes of which haunted the 2004 Lakers. The clock is ticking -- especially on the bodies of Nash and Bryant -- but it's not necessarily expiring imminently. If the group falls short they can re-dedicate themselves to a 2014 run, much like the 2012 Miami Heat did after falling to Cuban's Mavericks in the 2011 Finals, rather than go their separate ways. The knowledge of that timeline should eliminate some of the fingerpointing that can arise when pressure mounts during the season. 
There is one massive exception to all of this. That would be Howard. He is the powder keg here, the player most capable of messing up the chemistry, the player with the greatest immediate injury concern, the player with the biggest questions about whether he will subjugate his ego for the good of his team, and the player with the shortest contract. He's also shown the preference to escape from past messes rather than take responsibility for them. Those are all serious risks.
With that said, Howard is also the NBA's best center, by a wide margin, and has been the centerpiece on a team that reached the Finals. He's been one of the league's most consistent players and enjoyed excellent health until his recent season-ending back injury. He's now in a city and with a franchise that seems to fit his desire to be the center of attention. He's got a roster around him that's ready-made to win, exactly what he spent all of last season asking for. 
This leaves us with the following conclusion: The 2012 Lakers are not the 2004 Lakers. They are younger, less selfish and they figure to be together longer. They are not Cuban's 2011 Dallas Mavericks -- the ideal of the whole being better than the sum of the parts -- nor are they the most recent superteam, the Heat's "Big 3" experiment that fell short in their first season together. Instead, they are their own superteam chemistry experiment, one that will rely totally on Howard, the most combustible element on the NBA's periodic table.
The table is set for greatness. It's all on him.
We've got all the scores, highlights and news from all of Sunday's games

The Rockets beat the Warriors 116-108 on Saturday night

The Cavaliers gave up 148 points in their loss Saturday afternoon to the Thunder
Blatt made the comment before coaching in the All-Star Game in Turkey

Is this rock bottom for the Cavaliers because it sure feels like it is

Wade, as he's done so many times in his career, threw it up to LeBron for the thunderous f...