Mavericks preview: Dallas needs Dennis Smith Jr. to take reins from Dirk Nowitzki
The passing of the torch has to happen this season if the Mavericks are going to move on
• 7 min read
It's going to be a bittersweet season for the Dallas Mavericks, as they'll likely wave goodbye to Dirk Nowitzki, who has been the undisputed leader of the Mavs and one of the most productive and popular players in the NBA for nearly the entirety of his lengthy career.
But at the same time they welcome in potential franchise point guard Dennis Smith Jr., the first worthy candidate to replace Dirk as the face of the Mavericks. While giving Nowitzki the admiration and respect he deserves as he rides off into the sunset, it's essential for the Mavericks to groom Smith to take over as the leader next season.
The old man
Nowitzki restructured his contract in the offseason and signed a two-year deal with a team option for next season, but he has stated in the past that that the 2017-18 season, his 20th in the league, would be his last. But here's the thing, Dirk's actually still pretty darn good.
In 54 games last season, Nowitzki averaged 14.2 points, 6.5 rebounds and shot 38 percent from 3-point range -- not bad for a 38-year-old. Now 39, Dirk may not be as dynamic as he was during his unreal title run in 2011, but that shooting stroke isn't going anywhere. He shot 39 percent on catch-and-shoot 3-pointers last year, right in line with his averages over the previous three seasons. And you know he's always good for at least one of his patented fadeaways every game.
Bottom line: Don't get suckered into thinking this is simply a victory lap season for Dirk. Barring catastrophic injury, he's still a solid scorer who will be an important part of the Mavs offense. Yes, he's a defensive liability, but at 25 minutes per game, head coach Rick Carlisle can surely find a way to effectively hide him.
When he retires, Dirk will be a first-ballot Hall of Famer and will likely go down as the greatest international NBA player of all time (for now). Luckily, we have at least one more season to appreciate him.
The kid
The Mavericks thought they had found their next franchise player when they signed Harrison Barnes to a four-year, $94 million max deal last summer. Barnes proved he could score (19.1 points per game) but was inefficient, with an effective field-goal percentage of 49.8. Overall, it was clear toward the end of last season that Barnes was simply a piece of the Mavericks' future -- not THE piece.
Enter Smith, a 6-foot-3 power guard, who because of a loaded point guard class fell into Dallas' lap at No. 9 in June's draft. Even on draft night people were talking about Smith as the night's biggest steal, and those thoughts were confirmed when he averaged 17.3 points in the Las Vegas Summer League. His fellow rookies picked him to win Rookie of the Year, and NBA GMs voted Smith as the biggest steal of the draft.
What Smith brings to the table is unbridled force and athleticism, like a slightly more harnessed version of a young Russell Westbrook.
And while Westbrook had to put in a lot of work on his jump shot, Smith appears to have good balance and a solid release, which is a promising sign that he could translate the 36 percent that he shot on 3-pointers in his only season at NC State to NBA range.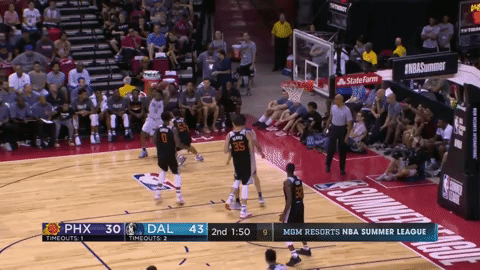 As expected, Carlisle is tempering expectations by saying Smith has a lot to learn, but he has already remarked about how quickly his young point guard is picking things up.
"He's learning an awful lot in a very short period of time," Carlisle told Sportsday.com's Eddie Sefko during training camp. "When you're a 19-year-old lottery pick who's projected as a starter, there's a lot coming at you all the time. I'm just encouraging him to be patient.
"He's making some spectacular plays and there's always going to be some mistakes you got to learn from. But his attitude is great and the physical element he brings to the team is unlike anything we've ever had at the point."
Yes, patience will be key for the Mavs during the growing pains of Smith's rookie season, but it's clear that he is being groomed to take over the team when Dirk finally hangs them up.
The supporting cast
Barnes was a disappointment as the No. 1 option last year, but that doesn't mean he can't blossom as the team's No. 2. If he's going to be Smith's running mate, however, he's going to have to improve on his 3-point accuracy -- particularly from the corners, where he shot 31 percent last season, well below the league average.
When Smith penetrates and draws a second defender, Barnes is going to have to be able to knock down that shot, something he proved he can do at least somewhat reliably in his years with the Warriors.
Meanwhile, on the other end of the spectrum, you have Seth Curry, a pleasant surprise last season as the Mavs gave him legitimate minutes for the first time in his career. Curry averaged 12.8 points and 2.7 assists while playing both guard positions in 70 games, including 42 starts. True to his name, he was more than solid from the 3-point arc, hitting 42.5 percent.
He should benefit from Smith's playmaking, so expect his numbers to go up this season.
The wild card this year is Nerlens Noel, who the Mavericks reportedly tried to lock up early this offseason with a multi-year, $70 million deal. Noel reportedly rejected the offer and, after a long summer of negotiations, elected to sign the $4.1 million qualifying offer. Noel will now become an unrestricted free agent next summer, which is a double-edged sword for the Mavs.
On one hand, they'll likely get an extremely motivated Noel, whose strengths of defense, shot-blocking and rim-running improve exponentially with added effort. On the other hand, they may have no chance to re-sign him next offseason if Noel was insulted by the Mavs' lack of generosity this past summer.
If that's the case, then Noel's relatively minuscule contract makes him a valuable trade chip that could potentially net the Mavs a late first-round pick or a young asset to help aid the rebuilding process around the deadline.
It's hard to say what the Mavs will get out of Wesley Matthews this season. He clearly hasn't been the player that he was in Portland after recovering from Achilles surgery. His 3-point percentage has dipped from a consistent 39.4 percent in five Blazers seasons to just 36 percent in his two Dallas seasons.
Matthews is still a good defender, which the Mavericks will need on the perimeter with Smith and Curry on the court, and his 3-point shooting could improve with some potential open looks off of Smith's penetration. At this rate it looks like he'll opt into his $18.6 million option to return to the Mavs in 2018-19, so he's going to be a part of the team for at least the near future.
The X-Factor
Before last season the Mavs inked Dwight Powell to a four-year, $37 million deal, and let's just say the payoff has not been immediate. The 6-foot-11 Canadian is agile and has a beautiful shooting stroke, but averaged just 6.7 points and 4.0 rebounds in 17.3 minutes per game last season.
All the pieces look to be in place for Powell to become at worst an impact bench player, and at best a starting stretch-four or even stretch-five. When he's engaged he's incredibly impressive, like when he scored a career-high 21 points, including 4-of-8 on 3-pointers, against the tanking Suns toward the end of last season.
Despite the obvious talent, Powell has yet to put it together consistently -- he even fell out of the rotation at times after Noel showed up. Powell attempted more than six 3-pointers in four of the last five games last season, so that is clearly a point of emphasis that has carried over into the preseason (11 3-point attempts in his first three games).
Entering his fourth season, we'll likely find out if Powell just is what he is -- a 10-to-15-minute energy big -- or whether he can finally realize his potential and cement himself as part of the young Mavericks core moving forward.
The Expectations
On paper the Mavericks are not a good team, particularly when injuries inevitably come knocking. They won 33 games last season -- the franchise's lowest total since 1997-98 -- and the Vegas line for this season lies around 35. That's probably a bit ambitious in a stacked Western Conference, but it's hard to imagine a Rick Carlisle team winning less than 30 games.
So they'll probably fall around the 35-win mark and miss the playoffs, which will be fine with Mark Cuban and Co. There's really only one mission this season: Develop Smith -- everything else is secondary.
That way, if and when Nowitzki decides that this is his last season, the future of the franchise will be in good hands.
CBS Sports HQ Daily Newsletter
Get the best highlights and stories - yeah, just the good stuff handpicked by our team to start your day.
Please check the opt-in box to acknowledge that you would like to subscribe.
Thanks for signing up!
Keep an eye on your inbox for the latest sports news.
Sorry!
There was an error processing your subscription.
Mychal Thompson played for the Lakers, but says his son won't follow in his footsteps

Memorabilia from 'The Big O's' Hall-of-Fame career went to the highest bidder

The Rockets will have to look elsewhere as they try to bolster their bench
The 2018 Rookie of the Year shared his thoughts on LeBron picking L.A. and also said Philly...

Irving's mother, grandparents and great-grandparents were all part of the Standing Rock Sioux...

Steve Ballmer's Clippers currently share the Staples Center with the Lakers